On October 13, Professor William Lahey was officially installed as President and Vice-Chancellor of the University of King's College. Professor Lahey, who took office on July 1, is the 25th President in King's history.
The ceremony celebrated the tradition into which professor Lahey is entering and the possibilities for growth that King's has in the years ahead.
"Here I am, educated in, and deeply fond of, the Oxbridge tradition, fortunate enough to be the president of a jewel of a college in the same tradition," said Lahey. "I am irrevocably and fully for King's. I am, as they say, all in." Read his full remarks.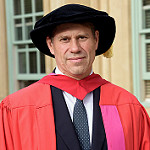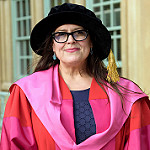 In addition to the installation of Professor Lahey as President, King's conferred honorary degrees on two recipients. Mr. Patrick Graham, an award winning freelance journalist who has helped Canadians understand among other events the war and turmoil in Afghanistan and Iraq, and Dr. Tracey Lindberg, author and award winning professor of indigenous law, who is a leading thinker in the theory of indigenous law and an advocate for indigenous women, each received a Doctorate of Civil Laws (honoris causa).
Photos © Christian Laforce