Students Advocating for Representative Curricula (SNARC) presents
Intersections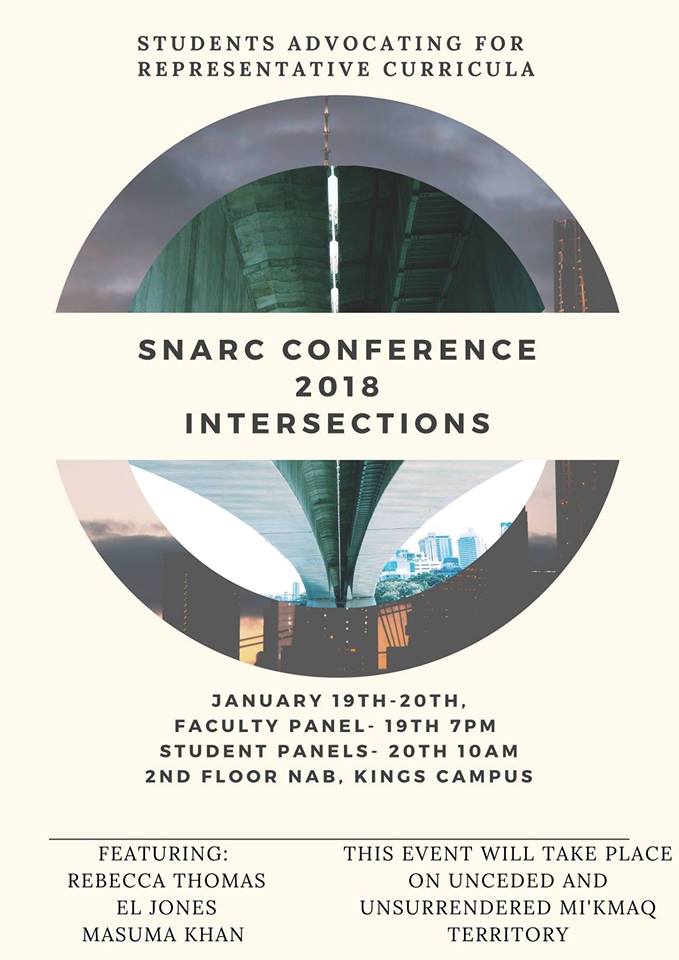 The SNARC conference focuses on voices that are underrepresented, misrepresented or ignored in academia. This includes, but is not limited to, the voices of BIPOC folks, 2SLGBTQIA+ folks, femme identified folks, non-binary folks, gender-fluid folks, and women. We seek to diversify what we study, question why that has been the case, and challenge the canon.
---
Schedule:
January 19
7pm Opening
7:15pm Spoken Word performance by Halifax Poet Laureate Rebecca Thomas
7:30pm Faculty Panel (participants TBA)
January 20
Student Presentations (schedule TBA)
---
SNARC will provide lunch thanks to the Loaded Ladle on Saturday. Please RSVP on this event so we have a rough idea of numbers for food.
This event will take place on the 2nd floor of the New Academic Building on King's Campus. The 2nd floor is elevator accessible and has 2 gender inclusive single-stall washrooms.
SNARC acknowledges this event takes place in Mi'kma'ki, the ancestral and unceded territory of the Mi'kmaq People.
This territory is covered by the "Treaties of Peace and Friendship" which Mi'kmaq and Wolastoqiyik (Maliseet) people first signed with the British Crown in 1725. The treaties did not deal with surrender of lands and resources but in fact recognized Mi'kmaq and Wolastoqiyik (Maliseet) title and established the rules for what was to be an ongoing relationship between nations.