For the full King's at the Cathedral Series, visit the concerts page.
"Annual magic", with guest narrator Gary Thorne
Saturday, December 16 at 4:00 p.m. – St John's Anglican Church, Lunenburg
Sunday, December 17 at 4:00 & 7:30 p.m. – Cathedral Church of All Saints, Halifax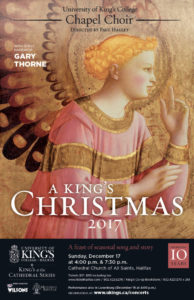 Described by the Chronicle Herald as "annual magic", this feast of seasonal song and story is celebrating its ten-year anniversary.  Directed by five-time Grammy winner Paul Halley, the music features carols from the mediaeval to the modern sung by the acclaimed University of King's College Chapel Choir.  The Rev. Dr. Gary Thorne is a priest, theologian, university professor, and activist currently serving in his final year as Chaplain and member of the teaching faculty at the University of King's College and Dalhousie University. In addition to his work with university students, Fr Thorne has served as a parish priest, a military chaplain on the ground in war-torn areas of the globe, and an advocate for the poor and marginalized.
Tickets $20-$100, available soon at www.tickethalifax.com and at the King's Co-op Bookstore, 902-422-1270 ext. 261.