You are invited to a lunch-time conversation with
Ted Fontaine
an Indian Residential School survivor.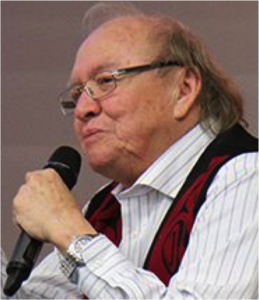 Mr. Theodore (Ted) Fontaine is a member and former chief of the Sagkeeng Ojibway First Nation in Manitoba. In his powerful memoir Broken Circle: The Dark Legacy of Indian Residential Schools, he describes his childhood experiences at the Fort Alexander and Assiniboia Indian Residential Schools, He will talk with us about his life-long journey toward reconciliation and healing.
This event is co-sponsored by the Equity Committee, Foundation Year Programme, and Contemporary Studies Programme. Pizza, dessert and beverages will be served.
On Wednesday evening, Nov. 1, Ted will join Holocaust survivor Nate Leipciger at the Halifax Central Library for "The power of the memoir and storytelling: What can we learn from the trauma of the past." The panel discussion, part of the 14th annual Holocaust Education Week, starts at 7 p.m. in Paul O'Regan Hall. Admission is free. Further details are available on the Central Library website.