Due to limited seating in Alumni Hall, all seats are reserved for students and invited guests.
Mr. Boyden will hold a public book signing at 6:30pm in Prince Hall (Arts & Administration Building). At 7:30pm, the public is welcome to attend a live-streaming of the lecture in Prince Hall.
---
Author Joseph Boyden will deliver the sixth Alex Fountain Memorial Lecture at the University of King's College on November 24.
This Writer's Life: Embracing the Voices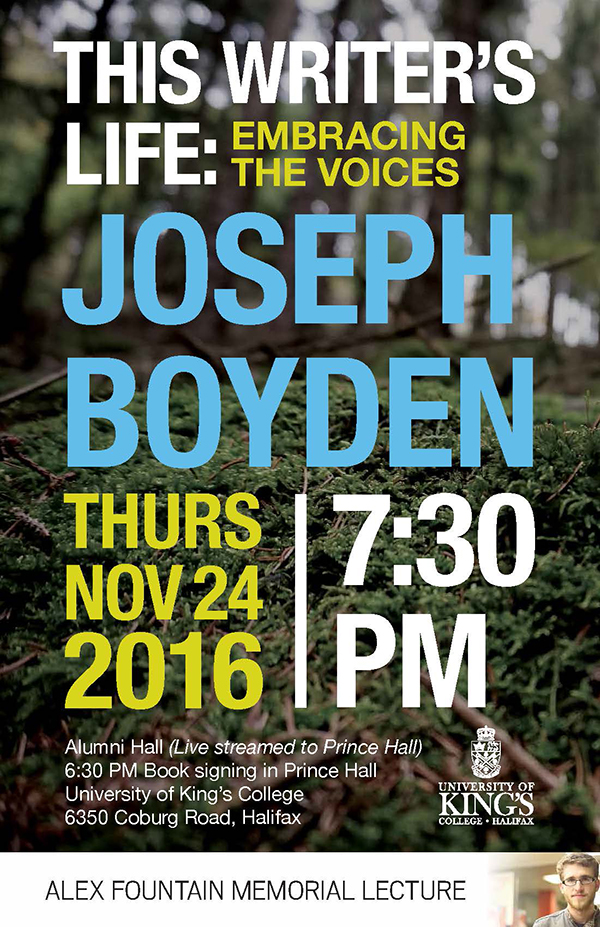 In this enlightening talk, internationally acclaimed author Joseph Boyden shares stories of overcoming fear and the odds by listening to the characters that channel him as he embraces his Anishnaabe spiritual beliefs. His three-act format describes his journey to becoming one of Canada's most beloved authors. At times humorous, at times very serious, Joseph aims to deliver the positive message that belief in self is at the core of accomplishment.
About the Alex Fountain Memorial Lecture: Fred and Elizabeth Fountain and their daughter Katharine established the Alex Fountain Memorial Lecture in 2011 to honour Alex, who died in August 2009. This exceptional gift to the college enables the King's student body to invite a speaker of their choosing to the university each year. Previous lecturers include author Michael Ondaatje, philosopher Charles Taylor, Governor General Michaëlle Jean, philosopher and poet Jan Zwicky, and author Miriam Toews.