But first, let me take a selfie.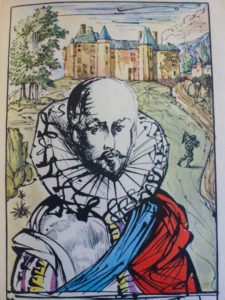 Montaigne is the inventor of the essay. Some even call him the first blogger. Learn how this French Renaissance writer's surprising reflections on gender, indigenous peoples and the self can help us to become happier, more sensible people.
You are invited to: A Night Out With King's where you will be able to connect with professors and alumni, enjoy refreshments, and take advantage of on-the-spot admissions to some of Canada's premier arts, science, and journalism programmes.
Dates & Locations
St. John's
Sunday, November 6, 2 – 4pm:
Johnson Geo Centre, Celestial Gallery
175 Signal Hill, St. John's, NL
Fredericton
Monday, November 7, 7– 9pm:
Delta Fredericton, Banquet Room
225 Woodstock Rd., Fredericton, NB
Moncton
Tuesday, November 8, 7– 9pm:
Resurgo Place, Mezzanine
20 Mountain Road, Moncton, NB
Charlottetown
This event has been postponed. Stay tuned for further details. If you have RSVPed to the event, someone will be in touch soon.
Sydney
Thursday, November 10, 7– 9pm:
Cambridge Suites Sydney, Celtic Room
380 Esplanade, Sydney, NS
On-the-Spot Admissions available.
RSVP
Halifax Open House & Lecture
Open house is a great time to visit. Come hear "Climbing to Modernity with Petrarch". Attend our open house:
Friday, October 21, 9am – 3pm
University of King's College, KTS Hall
6350 Coburg Road, Halifax NS
Questions