Automatons! From Ovid to AI
War in the Age of Intelligent Machines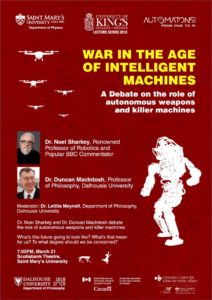 Don't miss Noel Sharkey, renowned professor of robotics and popular BBC commentator, and Duncan MacIntosh, Professor of Philosophy at Dalhousie University, as they debate the role of autonomous weapons and killer machines. What's this future going to look like? What's that mean for us? To what degree should we be concerned?
"War in the Age of Intelligent Machines"  is part of Automaton! From Ovid to AI, King's 2018 Public Lecture Series. This not-to-be-missed debate is presented with the support of the University of King's College (Contemporary Studies Program, Early Modern Studies Program and History of Science and Technology Program), Saint Mary's University (Department of English, Department of Physics), Dalhousie University (Department of Philosophy), the Canadian Centre for Ethics in Public Affairs and the Social Science and Humanities Research Council of Canada (SSHRC).
You can hear Noel Sharkey talk about how much faith he puts in robots in this BBC interview.