Ron Haflidson
Solitude & Solidarity
How Time Alone Can Change Our Time Together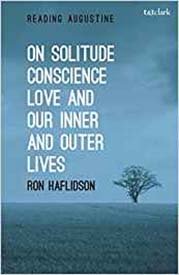 Ron Haflidson, past Foundation Year Program tutor and don of North Pole Bay, will lead our discussions together. He will examine how our hyper-connected and hyper-commodified age forms and de-forms us and what the role of solitude could be in our contemporary lives.
In 2019, Ron published On Solitude, Conscience, Love and Our Inner and Outer Lives, in which he brings the wisdom of St. Augustine int conversation with modern thinkers such as Jane Austen, George Eliot and Marylin Robinson to explore the abiding relevance of solitude for our relationship with God, self, and other.
The Winter Retreat takes place at Mersey River Chalets, near Kejimkujik National Park, in the embrace of the rushing Mersey River and the serene Harry Lake. The retreat speaker this year is Ron Haflidson, a former FYP tutor who now teaches at St John's College, Annapolis.
Location
Mersey River in the back woods of Nova Scotia will invite students to enter a space of quiet, reflection, contemplation, and community. Our weekend will be structured around communal meals and discussions, and the ancient practice of singing the daily office to mark the hours of the day. Between these gatherings, there will be opportunities to hike the snowy trails of neighbouring Kejimkujik National Park, to enjoy company of friends in the cosy chalet or to make space for inward and outward quietness.
Registration
Registration forms are available as of Tuesday, January 20th, at the back of the Chapel. These must be handed in to the A&A front desk by 5:00 pm on Tuesday, February 4th. You must hand in a form in order to come on retreat! Those forms also contain some more information, which will be reproduced here as soon as the webmaster obtains one.