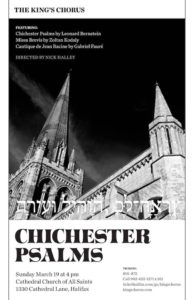 On March 19, 2017, The King's Chorus, directed by Nick Halley, will present The Chichester Psalms by Leonard Bernstein, together with Zoltán Kodály's Missa Brevis, and Gabriel Fauré's Cantique De Jean Racine. The animated King's Chorus, accompanied by a stunning harpist, a world-recognized percussionist, and a Grammy award-winning organist, will bring to life these contemporary masterworks.The Chichester Psalms, composed by Leonard Bernstein in 1965, is a powerful setting of Psalm 23, the "Psalm of David," which evokes emotions of sorrow, joy, and longing. The Chichester Psalms awakes more than just the senses: "Awake, psaltery and harp:/ I will rouse the dawn!" Bernstein's masterpiece inspires wonder at the full weight and beauty of the human experience.
Hungarian-born Zoltán Kodály composed the Missa Brevis in the cellar of the Budapest Opera House, where he and his wife were seeking refuge from the occupied city that was being sieged by the Red Army. The 1945 piece was a re-working of an earlier instrumental work of Kodály's from 1942. Next to the Psalms, this mass setting offers another side of our humanity. Equally rousing, it echoes the depth and array of human feeling known during the Second World War.
Join the Chorus for an evening of unforgettable beauty in the glorious space of Halifax's Cathedral Church of All Saints. Buy tickets ($10-$75) online at tickethalifax.com or over the phone: 902-422-1271 x 261.