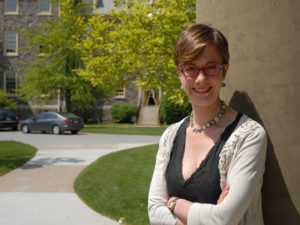 On Friday, February 10, the Dalhousie Feminist Seminar Series is proud to present Dalhousie-King's Joint Faculty Dr. Roberta Barker (Fountain School of Performing Arts) on "Death and the Working Woman: Actresses, Illness, and Forms of Labour on the 19th Century Stage." The event will be held in the Marion McCain Building, Rm. 2021, from 12:30-1:30.
Roberta Barker is Associate Professor and Associate Director (Theatre) in the Fountain School of Performing Arts, Dalhousie University. A practicing director and dramaturge of theatre and opera, she is the author of Early Modern Tragedy, Gender and Performance, 1984-2000: The Destined Livery (Palgrave Macmillan, 2007), co-editor of New Canadian Realisms (Playwrights Canada Press, 2012), and General Editor of the series New Essays in Canadian Theatre at Playwrights Canada Press. Her current book project, Symptoms of the Self: Tuberculosis and the Birth of the Modern Stage, is under contract with the University of Iowa Press.
Visit https://feministseminarseries.com/ for a list of our upcoming events.