The Devil 20/20 Conference
Keynote Speakers:
Elaine Pagels, Princeton
Scott Poole, College of Charleston
From Thursday Nov 12 to Saturday Nov. 14, 2020, a conference will be held at the University of King's College entitled "Devil 20/20". This conference is a followup to the Centre for Reformation and Renaissance Studies 2008 conference, The Devil in Society in the Premodern World.
Call for Papers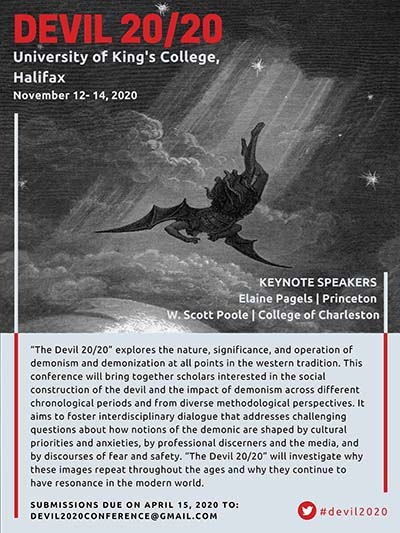 "The Devil 20/20" conference explores the nature, significance, and operation of demonism and demonization across the western tradition. The conference will bring together scholars interested in the social and cultural construction of the devil and the impact of demonism across different chronological periods and from diverse methodological backgrounds. It aims to foster interdisciplinary dialogue that addresses challenging questions about how notions of the demonic are shaped by cultural priorities and anxieties, by professional discerners and the media, and by discourses of fear and safety.
"The Devil 20/20" will investigate why these images repeat through the ages and why they continue to have still have resonance in the modern world.
The Programme Committee welcomes proposals for 20-minute papers, for panels (generally consisting of three papers), and workshops or round-tables dealing with any aspect of demonism and its manifestation in the western tradition.
Abstracts of no more than 250 words should be submitted by 15 April 2020, together with a one-page curriculum vitae to devil2020conference@gmail.com
Halifax (pop. 500,000) is the largest city in Atlantic Canada and is the capital of the province of Nova Scotia. It is serviced by direct flights from Boston, New York, London, Montreal, and a number of other major North American and European cities. It has a range of services and attractions and has become a leading regional centre for dining and entertainment. The average temperature in November is 7C (44F).
Programme Committee: Michelle D. Brock (Washington and Lee), Peter Dendle (Penn State, Mont Alto), Sarah Hughes (Temple), Kathryn Morris (King's College), Richard Raiswell (Prince Edward Island), David R. Winter (Brandon)