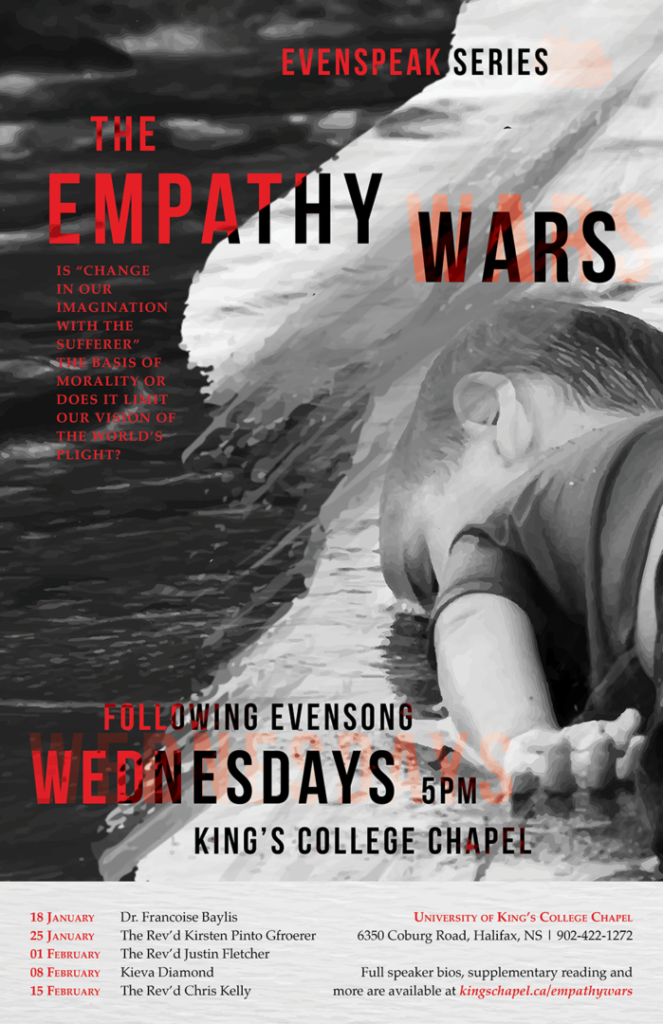 Do we have the capacity to empathize with those unlike ourselves, or must we adopt a rational compassion, which trusts reason to be the proper guide for right actions?
In the eighteenth century, Adam Smith argued that the basis of morality was our capacity to "change places in our imagination with the sufferer." But recent philosophers have warned us that empathy is a dangerous emotional force that draws us towards identifying with the suffering of particular individuals while we blithely ignore the plight of distant strangers or people outside our 'tribe'. Reason and objective judgement about how to do the most good for the most people, not a self-focused empathy, must be our primary moral guide. Our speakers will address us for 15 minutes following 5pm Evensong at the King's College Chapel.
---
The Rev'd Justin Fletcher is the youth minister at St Michael Catholic Church in Cary, NC, USA. His primary duties there include teaching Sunday School, Confirmation preparation, and doing that which others find tedious. Previously, he was for three years the vicar of St Luke's Episcopal Church in Chickasha, Oklahoma, USA, making him the author of hundreds of mediocre sermons. His theological interests include the cessation of experience in relation to virtue and the happy life, and the challenge of technocratic historicism to the moral life. He has wife, and two children, and enjoyed his last visit to King's College so much that not even the hazing of being cast in the Mersey River could deter his grateful return.
18 January: Dr. Francoise Baylis
25 January: Kirsten Pinto Gfroerer
1 February: The Rev'd Justin Fletcher
8 February: Kieva Diamond
15 February: The Rev'd Chris Kelly
5pm, Wednesdays beginning January 18
University of King's College Chapel
6350 Coburg Road
902 422 1272
Full speaker bios, supplementary reading, audio recordings of the talks, and more available at www.kingschapel.ca/empathywars