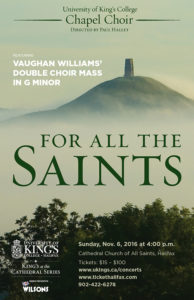 The University of King's College Chapel Choir opens its 2016-17 King's at the Cathedral concert series with a 20th century masterwork, the Mass in G Minor for Double Choir by Ralph Vaughan Williams. Composed in 1921, the piece is full of the rich harmonies associated with the composer in his most 'English summertime' moments, but the origins of the piece are also in the revival of English polyphony and with Vaughan Williams' identification of his music with 'the imperishable glories of English prose'.
The concert will also include works by Byrd, Barber, and Poulenc, and glorious hymns accompanied by the Cathedral's great pipe organ and the Maritime Brass Quintet.
This performance will be the choir's eighth annual concert celebrating All Saints and All Souls. Featured pieces in the past have been Rachmaninov's All Night Vigil (1915) and Requiem Mass settings by Duruflé (1947), Fauré (1890), Schnittke (1975), Victoria (1603), and de la Rue (c. 1500). Halley and the University of King's College Chapel Choir continue to present mass settings that are otherwise rarely, if ever, heard performed live in Nova Scotia.
Tickets $15-$100, available at www.tickethalifax.com and from the King's Co-op Bookstore, 902-422-1270 ext. 261.
This concert will also be presented at The Cathedral of the Immaculate Conception in Saint John, New Brunswick on Friday October 28th at 7:00 p.m.