For the full King's at the Cathedral Series, visit the concerts page.
Sunday, November 3, 2019 at 4:00 p.m. – Cathedral Church of All Saints, Halifax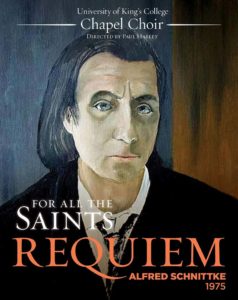 The annual For All The Saints concert takes place on the first Sunday after All Saints Day and each year features a great work that honours those who have gone before.  This year Halley plans to return to the setting of the Requiem (Mass for the dead) by Soviet-German composer Alfred Schnittke, written in 1975 and performed in Halifax by the Chapel Choir once before, in 2012. The piece is scored for choir, soloists, trumpet, trombone, organ, piano, celeste, electric bass and guitar, and a huge array of percussion instruments.
Halley says, "I first encountered Schnittke's compositions when I toured what was then the Soviet Union in 1984 and I was overwhelmed by the grit and power of his music. His voice was, and still is, utterly unique. His Requiem is truly the most dramatic, I would even say, shocking, setting of the text that I have ever heard. This mass for the dead is a haunting portrayal of chaos, despair, and darkness, but also of profound hope and exquisite beauty."
Advance tickets available now at the King's Co-op Bookstore (902.422.1270 ext 261) and on Ticket Halifax (tickethalifax.com / 902.422.6278).
We are offering a special ticket price of $10 including tax for all King's & Dal students.