Everything in Holy Week speaks of love. The liturgies, which run from Palm Sunday on April 9 through Easter Sunday on April 16, are often long, for example, because love endures; the liturgies are sensual, because love depends on bodily intimacies (touch, smell, sight, sound); the liturgies are sorrowful, because every day love is violated; the services are mysteriously joyful, because no violation of love exhausts love's mercy. Indeed, the Holy Week journey that recounts day by day the story of Christ's death and so seems nothing if not tragic is, properly understood, from beginning to end the story of a wedding—everything speaks of love.
This, at least, is the conviction of one old tradition that places the image of Christ the Bridegroom at the very beginning of the most sacred week of the Christian year. Of the many titles given to God in the Hebrew and Christian Scriptures (Saviour, Lord, Father), Bridegroom is arguably the most common and significant. Holy Week is a journey into the mystery of a divine desire to be 'wed' to our humanity not simply in its beauty and goodness, but in its deepest and most profound darkness and forsakenness. In all of the liturgies and sermons, in the music and the silence, one truth will be proclaimed over and over again: that, though the world may betray love, 'Love,' as Bob Marley sings, 'would never leave us alone.'
About our Holy Week Missioner
Dr. Douglas Hedley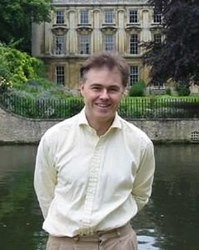 Dr Douglas Hedley is Reader in Hermeneutics and Metaphysics in the Faculty of Divinity at the University of Cambridge and Fellow of Clare College. He was educated at the universities of Oxford and Munich. He has recently completed a year as Templeton Fellow at the Institute of Advanced Studies at Notre Dame, where he completed the final instalment of a trilogy on the religious imagination (Living Forms of the Imagination, Sacrifice Imagined: Violence, Atonement and the Sacred, and The Iconic Imagination). Dr. Hedley is considered a world expert on the thought of Samuel Taylor Coleridge. He is the Principal Investigator in a major research grant to study the Cambridge Platonists, and has edited books on Austin Farrer and Radical Orthodoxy. He has supervised two recent graduates of King's in their doctoral studies, Dr. James Bryson (BAH '05), and Mr. Evan King (BAH '10).
Holy Week Schedule
You can also find the schedule at kingschapel.ca/holyweek and in PDF Format.
Palm Sunday
April 9th
11:00 AM Sung Eucharist
A simple Eucharist with a small Sunday choir.
Procession in the King's Quad led by a Palm donkey.
4:00 PM St. John Passion of J.S. Bach (1685-1750)
at the Cathedral Church of All Saints.
Bach's masterful telling of the Passion of Christ.
First performed Good Friday 1724.
Monday in Holy Week
April 10th
4:45 PM Sung Evensong
5:00 PM Choral Holy Communion (King's Chapel Choir)
Address: Dr Douglas Hedley
Mass Setting: Missa Cum Jubilo
Motet: Parce Domine of J. Obrecht (c. 1450-1505)
9:30 PM Compline (Women's Compline Choir)
Tuesday In Holy Week
April 11th
4:45 PM Sung Evensong
5:00 PM Holy Communion (Capella Regalis)
Address: Dr Douglas Hedley
Mass Setting: Missa Orbis Factor
Motet: Christus Factus Est of F. Anerio (1560-1614)
Wednesday In Holy Week
April 12th
4:45 PM Sung Evensong
5:00 PM Holy Communion (women of King's Chapel Chapel)
Address: Dr Douglas Hedley
Mass Setting: Missa Dominator Deus
Motet: Hymn of Cassia (Anon. 8th c.)
9:00 PM Tenebrae at the Cathedral Church of All Saints
Anthems: Lamentations of Jeremiah of T. Tallis (1505-85)
Miserere Mei of T.L. de Victoria (1548-1611)
Christus Factus Est of G. Asola (1532-1609)
Maundy Thursday
April 13th
4:45 PM Sung Evensong
5:00 PM Footwashing
Anthems: A New Commandment of T. Tallis
Ubi Caritas of M. Duruflé (1902-86)
5:15 PM The Last Supper
Address: Dr Douglas Hedley
Mass Setting: Collegium Regale of H. Howells (1908-91)
Motet: In Manus Tuas of J. Sheppard (1515-60)
Maundy Thursday 7:00 PM – 7:00 AM Good Friday
All Night Vigil before the Altar of Repose
Good Friday
April 14th
7:00 AM Morning Prayer
7:15 AM Said Holy Communion
10:00 AM Veneration of the Cross
Address: Dr Douglas Hedley
Anthems: O Vos Omnes of T.L. de Victoria (1548-1611)
The Reproaches of T.L. de Victoria
Miserere Mei of G. Allegri (1582-1652)
Crux Fidelis of Clemens (non Papa) (c. 1510-55)
Holy Saturday
April 15th
10:00 AM Morning Prayer and Holy Sabbath Cleaning
Contact David Butorac for further information.
11:00 PM The Great Vigil of Easter and First Mass of Easter
Sermon: Dr Douglas Hedley
Mass Setting: Messe Solennelle of J. Langlais(1908-91)
Psalm: Sicut Cervus of G.P. da Palestrina (1525-94)
Gradual: Christ Our Passover of P. Halley (b 1952)
Motet: Dum Transisset of J. Taverner (b. 1498)
Voluntary: Litanies of J. Alain (1911-40)
Easter Sunday
April 16th
11:00 AM Sung Eucharist
Easter Monday
April 17th
6:00 PM Said Holy Communion