Dr. Larry Stewart, Professor of History (U.Sask), Associate Fellow of the History of Science and Technology Programme, King's College, and author of The Rise of Public Science, and Practical Matter.
Instruments and spaces in early-modern science. James Dinwiddie's keys to empire, in Peking, Calcutta and London, 1760-1815.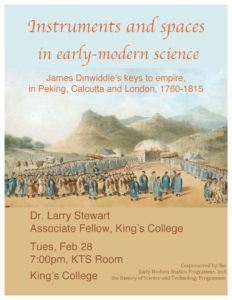 The discovery of the journals, diaries, and lecture notes of the itinerant lecturer James Dinwiddie has given us a view of science and the reach of empire in the early-modern world. Little known, Dinwiddie has been eclipsed by more significant practitioners in chemistry and electricity into the 19th century. Yet, amidst the British Embassy to the court of the Chinese Emperor in 1792 and his long sojourn in Calcutta, where he employed his skills in scientific demonstration and the construction of instruments, reveals the numerous roles played by science in the extension of empire, the promotion of trade to the Far East, and the widespread audience for new knowledge in the early-modern world. That Dalhousie houses the vast majority of his existing documents provides a window into a world where science mattered to a vast and curious public.