What do journalists need to know to cover Indigenous communities responsibly? How do you report fairly and avoid stereotypes? What does it mean to respond to the Truth and Reconciliation Commission's calls to action?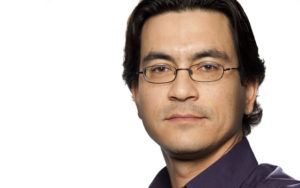 Join us for a conversation with journalist Duncan McCue, host of CBC's Cross Country Checkup, author and educator, as we explore reconciliation with Canada's Indigenous communities and what that means for the media. The keynote address is 10 a.m. to 12 p.m.
This free public event includes two information sessions in the afternoon.
Understanding treaties (12:45-2 p.m.): Naiomi Metallic (assistant professor, chancellor's chair in aboriginal law and policy at Dalhousie) will speak about the role of treaties in the relationship between Indigenous and non-Indigenous Canadians.  In doing so she will introduce the concept of treaties and what they are. Heather McNeill, QC will moderate and facilitate questions from the audience. She is a lawyer with Dalhousie Legal Aid and is acting director of the law school's Indigenous Blacks & Mi'kmaq Initiative.
Understanding Mi'kmaq history (2:15-3:30 p.m.): Stephen Augustine (dean of Unama'ki College & Aboriginal Learning at Cape Breton University) will talk about Mi'kmaq history and culture. He's a hereditary chief on the Mi'kmaq Grand Council and former curator at the Canadian Museum of Civilization.
This event is open to everyone.