The King's Dance Collective and
King's Theatrical Society present
Rhythm
Produced by Miranda Bowron and Ellen Zagar
March 16-17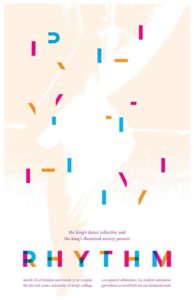 The King's Theatrical Society presents a show the annual show choreographed by the student-run King's Dance Collective. Come see such diverse dance styles as Funk, Ukrainian, Bollywood, and more!
A limited engagement for 2 dates only.
Friday, March 16th at 8pm
Saturday, March 17th at 2pm
Reserve your tickets online, limited tickets at the door. Tickets are 5$ for students, 10$ for general, pay at the door.