Several times each semester, President Lahey brings a King's alumnus to have Lunch in the Lodge with current students. Together, they enjoy a delicious meal and casual conversation. If you are a current student, invitations are sent to all by email and are assigned to eight on a first to respond basis.
Access to justice is a fundamental right in a democratic society. But what does access to justice look like on the ground for people at the margins? That's a question you can ask Harry Critchley, President Lahey's guest for Lunch in the Lodge.
Guest Alumnus – Harry Critchley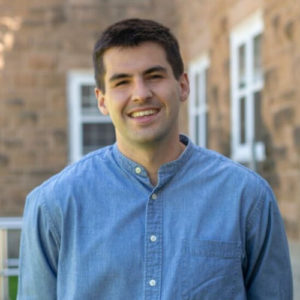 Harry Critchley, BA'15 is currently a student at Dalhousie's Schulich School of Law. Before going back to school, Harry worked for a number of years as an educator and researcher, particularly with people in the criminal justice system. He was the first ever Community Engaged Learning Coordinator in the Faculty of Arts and Social Sciences at Dalhousie and then worked with the Nova Scotia Community College to assist with the development and coordination of Limitless, a transition-to-college program for people in provincial jail.
Outside of his professional life, Harry is the Director of the Burnside Education Program, which offers educational opportunities at the Burnside Jail in Dartmouth—a program he co-founded in 2015 while still at King's. He also sits on the board of directors for the Elizabeth Fry Society of Mainland Nova Scotia, an advocacy group for incarcerated women in the Maritimes.
Lunches in the Lodge
Fall term
Friday, September 27, 2019
Friday, October 18, 2019
Friday, November 8, 2019
Winter term
Friday, January 24, 2020
Friday, February 14, 2020