President Lahey brings King's alumni and current students together to enjoy casual conversation in a series of "Lunches in the Lodge." Check back here for updates about the visiting alumnus/a for this date. If you are a current student, invitations are sent to all by email and are assigned to eight on a first to respond basis.
Guest Alumnus – Wilson Bell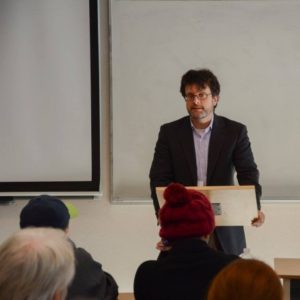 Wilson Bell, BA(Hons) '00 is an Associate Professor in the Department of Philosophy, History, and Politics at Thompson Rivers University. Bell's interest in history—Russian in particular—stems from lectures in the Foundation Year Program (FYP) at King's. As an undergraduate, he studied abroad in St. Petersburg. After he completed his master's, he returned to Russia and taught English at Moscow State University for a year.
"I try to view history as interdisciplinary, bringing in philosophy and literature and anthropology—a variety of ways of looking at the world," says Bell. "That also comes from the strong liberal arts foundation that King's provides."
Full Schedule
Fall term
Friday, September 27, 2019
Friday, October 18, 2019
Friday, November 8, 2019
Winter term