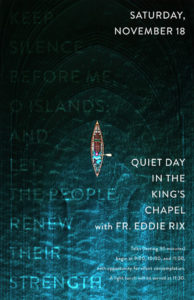 Rev. Eddy Rix (BA'91) is visiting the King's Chapel this week from Philadelphia. He was a formative presence on the King's campus during his undergraduate years (BA'91) and his time of Dean of Residence. He also did graduate studies in the Classics Department at Dalhousie and served as student chaplain at the IWK Children's Hospital. A self-described farm boy from P.E.I., Rev. Rix is the youngest of 11 children who says he discerned a vocation to ordained ministry at the age of six. As a theological student, Rev. Rix worked in parishes in inner-city Boston and Toronto, rural New Brunswick, the Naskapi Cree nation of northern Quebec and Labrador, and in Guyana. In 1996 he was called by the Bishop of Lusaka, Zambia, to serve as chaplain of a remote mission school in that diocese and having been made deacon, immigrated to Central Africa. While in Zambia, Rev. Rix worked in parish ministry in a combination of rural, shanty-town and urban parishes. He is currently Rector of All Saints Church in Wynnewood, Pennsylvania.
"He is not hesitant to express his always thoughtful and sometimes radical views," Father Gary Thorne says of Rev. Rix. "He insists that the Daily Offices and Holy Communion in the College Chapel bolstered an intellectual formation in the history of philosophy at the hands of the some of the finest minds in Anglican Christianity."
On Saturday, Nov. 18 there will be a Quiet Day in the Chapel with Rev. Eddy Rix talking for about 30 minutes at 9, 10 and 11 a.m. Time in between can be used to go for a walk, reflect, write, or get a snack in the Senior Common Room (SCR). The morning will conclude with a lunch together in the SCR at 11:30 a.m.