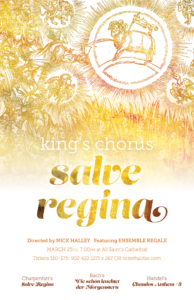 Happening for the first time since 1956, the coincidence of Palm Sunday and the Feast of the Annunciation is marked by a curious liturgical pressure. ?On the one hand, we approach Easter and the darkness leading up to ?the R?esurrection. On the other, the day is marked by the celebration of Gabriel's announcement to Mary that she will bear the Son of God – an announcement of the light that shall "lighten the gentiles." The King's Chorus is excited to enact this tension between darkness and light, between sadness and joy, with Bach's beautiful cantata Wie ?s?chön l?euchtet der Morgenstern, which was written specifically for this rare calendar event on March 25th, 1725. ?The concert begins with the ancient Gregorian chant Salve Regina. ??Then, bridging 500? years of history will be? Marc-Antoine? ?Charpentier's beautiful ?17th century ?setting of the Salve Regina and ?Handel's exhilarating Chandos Anthem #3. Featuring ?the ?Ensemble Regale chamber orchestra and wonderful Nova Scotian soloists, this concert is sure to be a beautiful way to welcome in the light of spring.
The King's Chorus is a student-led choral society at the University of King's College, under the direction of Nick Halley. The chorus brings together about 60 students, staff and faculty from Dalhousie and King's, as well as other community members.
Tickets range from $10-75. They can be purchased at tickethalifax.ca or by calling (902) 422-1271 x261.