The murder and trial that shocked a country.
Join CBC's Bobbi-Jean MacKinnon at an 'in conversation' event for Shadow of Doubt: The Trial of Dennis Oland. The event will take place in the Paul O'Regan Hall of the Halifax Central Library and and is free and open to the public.
Co-sponsored by University of Kings College.
Books will be available for purchase courtesy of Bookmark.
Join the discussion, Shadow of Doubt is now available for purchase online and in stores.
About Shadow of Doubt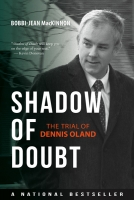 On July 6, 2011, Richard Oland, scion of the Moosehead brewing family, was murdered in his office. The brutal killing stunned the city of Saint John, and news of the crime reverberated across the country. In a shocking turn and after a two-and-a-half-year police investigation, Oland's only son, Dennis, was arrested for second-degree murder.
CBC reporter Bobbi-Jean MacKinnon covered the Oland case from the start. In Shadow of Doubt, MacKinnon guides readers through the twists and turns of the story, from the discovery of the murder through the police investigation to the events of the trial — as only someone who was present from the beginning could. Chronicling the evidence, including evidence never presented to the jury, she builds the cases for the defence and the prosecution, leaving the verdict in the hands of the reader.