Presented by Visual Arts Nova Scotia and sponsored by the Contemporary Studies Programme:
The Public Life of the Imagination
by Lewis Hyde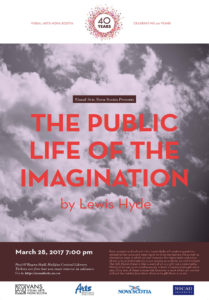 Poet, essayist and cultural critic Lewis Hyde will explore questions related to the value and meaning of art in contemporary life as well as alternative ways in which we can measure the importance and value of art, culture and creativity in our society as a whole. As with his book The Gift, Hyde's thesis is that a work of art is a gift, not a commodity. Works of art can exist simultaneously in both a market and a gift economy. Only one of these is essential, however: a work of art can survive without the market, but where there is no gift there is no art.
Tickets are free but you must reserve in advance at http://visualarts.ns.ca