The King's Chapel Choir
Directed by Paul Halley
with chamber orchestra Ensemble Regale
Video broadcast performance Saturday, April 10, 2021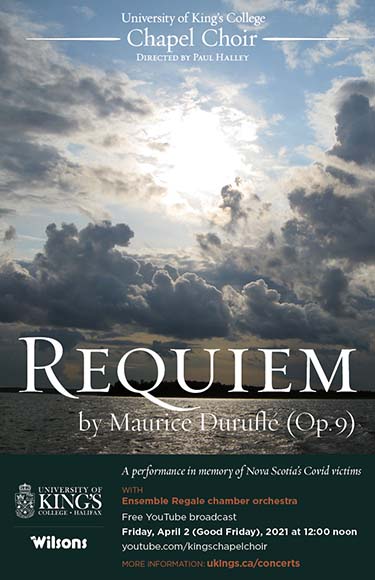 King's Music Director and five-time Grammy Award winner Paul Halley will direct members of the University of King's College Chapel Choir and a hand-picked chamber orchestra in a video-recorded performance of the supremely beautiful, justifiably famous Requiem by French composer Maurice Duruflé (1948). The musicians will be spaced within the lofty acoustics of Halifax's neo-Gothic Cathedral Church of All Saints, home of the Chapel Choir's King's at the Cathedral annual concert series.
A 'Requiem' is a Mass for the dead, named for the first words of the ancient funeral liturgy, "Requiem aeternam dona eis, Domine"–"Give them eternal rest, O Lord." Musical settings of these lines have existed as long as the liturgy itself. As a mid-20th-century composer, Duruflé had grown weary of increasingly overblown settings of the Requiem text and decided to return to the early Gregorian chants. To these chants he added masterful choral and orchestral arrangements.
This performance of Duruflé's Requiem is dedicated to all Nova Scotians who have lost their lives to COVID-19 in the first year of the global pandemic.
To watch the performance, visit the Chapel Choir's YouTube page on or after 5 p.m. ADT on Saturday, April 10, 2021.