A special screening of The War Show will take place in Alumni Hall on Tuesday, November 22nd starting at 7:00 p.m. The War Show is an award-winning documentary film about the Syrian conflict co-written by King's graduate Spencer Osberg (BJ '03, MFA '15). Following the screening there will be an audience Q&A and discussion on private refugee sponsorship.
About The War Show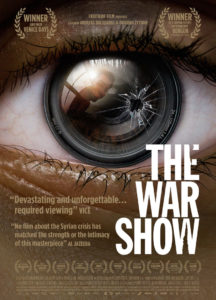 In March 2011, radio host Obaidah Zytoon and friends join the street protests against the oppressive regime of Syrian President Bashar al-Assad. Knowing the Arab Spring will forever change their country, this group of artists and activists begin filming their lives and the events around them.
But as the regime's violent response spirals the country into a bloody civil war, their hopes for a better future are tested by violence, imprisonment and death. Obaidah leaves Damascus and journeys around the country, from her hometown of Zabadani, to the centre of the rebellion in Homs, to northern Syria where she witnesses the rise of extremism.
A deeply personal road movie and award-winning documentary, The War Show captures the fate of Syria through the intimate lens of a small circle of friends.
The event is free and open to the public but donations will be accepted in support of Molham Team, a nonprofit organization providing healthcare, education, orphan care, and emergency support services to vulnerable communities inside Syria and refugee populations in neighbouring countries.