For the full King's at the Cathedral Series, visit the concerts page.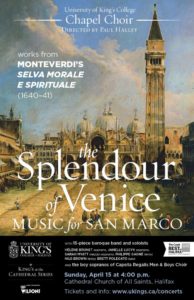 Based on the overwhelming response to their performances of Monteverdi's Vespers of 1610, director Paul Halley and the University of King's College Chapel Choir are turning once more to the Italian composer to present selections from his 1640-41 collection Selva morale e spirituale. Translated as 'a moral and spiritual forest', the Selva is Monteverdi's retrospective anthology of his sacred compositions, compiled at the end of his 30-year run as maestro di cappella at the Basilica of San Marco in Venice, and not long before his death in 1643. The various pieces, scored for a range of forces from one voice and continuo to triple choir with 12 instrumentalists and continuo, exhibit Monteverdi's wholly pioneering style in the then-emerging world of Baroque music. While the Vespers was Monteverdi's first major liturgical piece, composed just prior to his move to the Basilica of San Marco, the Selva is a stirring culmination of the brilliant musician's career.
Directed by five-time Grammy winner Paul Halley, this performance features the 24 choral scholars of the King's College Chapel Choir alongside 15 instrumentalists on period instruments, a cast of early music soloists from across Canada, and the boy sopranos of Capella Regalis Men & Boys Choir.
Tickets are available for purchase on Ticket Halifax and at the King's Co-op Bookstore, 902-422-1270 ext. 261.