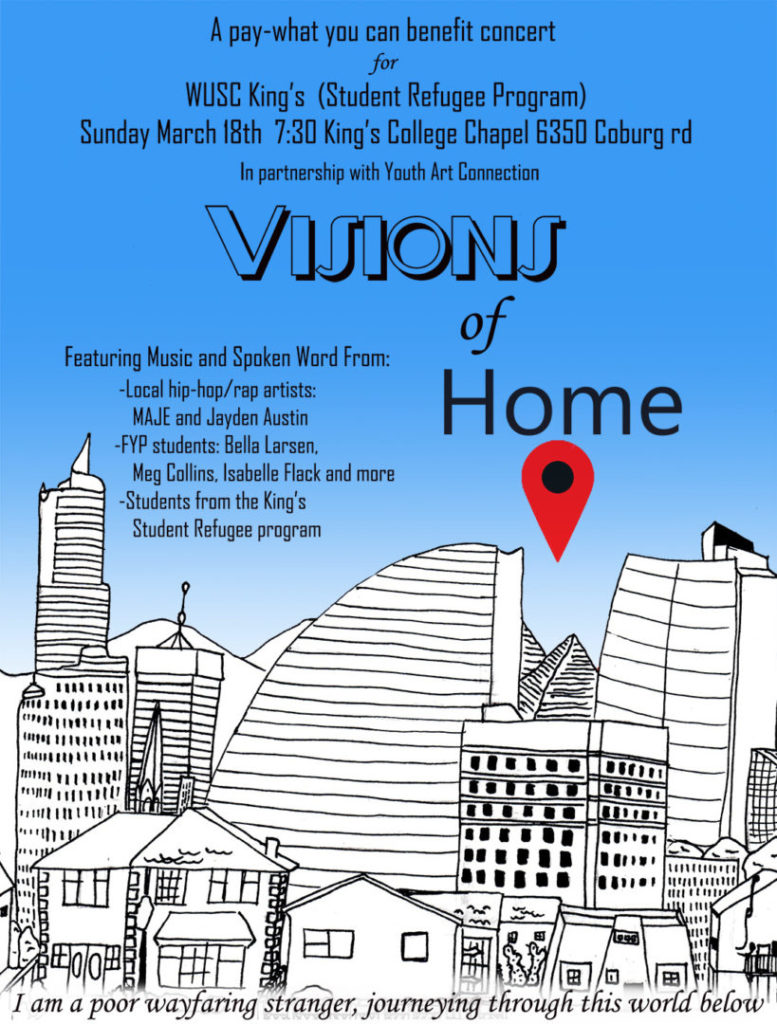 Join us in the Chapel this Sunday, March 18 at 7:30 p.m. for an evening of music and spoken word from King's students, local artists, and student refugees in support of WUSC King's Student Refugee Program (see full description below).
In keeping with WUSC King's mission of supporting student refugees in their post-secondary education, Visions of Home asks local artists and King's students alike to share their response, in words and song, to the question, "Where do you come from?"
The evening features music and spoken word from:
Local hip-hop and rap artists MAJE and Jayden Austin
FYP students Bella Larsen, Meg Collins, Isabelle Flack and others
Nawros Althiab & Janefer Musaka – Student Refugee Program participants
"This event is about community, home, and transience. What does home mean to you when you're a displaced person, a refugee in another country, or even someone who feels they don't fit into their community? These are big questions WUSC deals with all the time when students come through the Student Refugee Program," says Ava Whitney-Coulter, WUSC-King's president.
Visions of Home is presented by the Chapel Concert Series and made possible with the support of "Arts and Dialogue in Action," a new Youth Art Connection- King's student collaboration that helped connect local up-and-coming artists and performers for the fundraiser. "This partnership really speaks to the theme as well through the new connections we've made in the community," adds Ava.
The event is pay-what-you-can.
About WUSC
The World University Service of Canada (WUSC) is a leading Canadian non-profit organization in international development, committed to building a more equitable and sustainable world. They work with a unique and powerful network of post-secondary institutions, private-sector partners and volunteers to provide education, employment and empowerment opportunities that improve the lives of millions of disadvantaged youth around the world. King's is a member of this cross-country network of educational institutions that take part in fundraising and awareness campaigns that are promoted and created by WUSC.
The University of King's College chapter of WUSC is proud to focus on the Student Refugee Program (SRP).  King's WUSC supports the SRP through biannual sponsorship of a young refugee student to pursue their post-secondary education at King's. WUSC allows for these students to become permanent residents of Canada through the immigration process and helps them through the application process. Then, we help the sponsored student by creating a positive and safe environment for settling into their new home and support in every way we can.