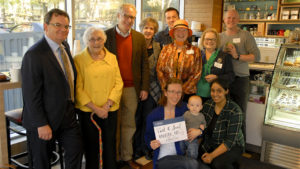 King's Worldwide Alumni Celebration on Oct. 18, 2018  was a rousing good time, with 27 different events transpiring around the globe. In Halifax, Truro, Moncton, Ottawa, Toronto, Thunder Bay, Yellowknife, Whitehorse, California, Qatar, London and beyond, alumni got together for things like tea, trivia, and talks about philosophers.
On October 17, 2019 we're going to do this all over again so now is the time to start your pre-planning. For more information about how to get involved, or host an event in your area, visit the Worldwide Alumni Celebration site:
Get in touch with kathy.miller@ukings.ca if you have any questions.