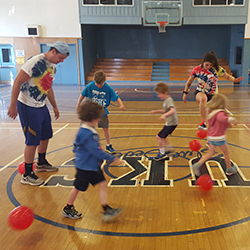 King's Kids Day Camp is preparing for another great summer. King's Kids Day Camp is a great place for children from grades primary to grade six to connect with engaging programming, make new friends, learn new things, and simply have fun!
Our day camps run from Monday to Friday, 8:00 am–5:00 pm starting on July 3.
King's Kids Day Camp feature:
Experienced and trained staff
Indoor and outdoor activities, and field trips designed for kids grades primary to grade 6, featuring new themes every week
Lunch and snacks are provided (2 snacks each day, as well as a full lunch in the King's cafeteria. All the food provided is peanut free and we are able to accommodate other allergies.)
King's Kids Day camp costs $45.00 per day or $200 per week. Extended hours are also available for $10.00.
Visit the King's Kids Day Camp official page to register and learn more.
Location: The King's Kids Day Camp is held on the University of King's College Campus, at 6350 Coburg Rd. The drop off area is located in the bottom floor of the King's Gym on Lord Dalhousie Drive (directions will be posted on gym doors).