Courtnay Malcolm (she/her)
New Glasgow, NS
Courtnay has been coaching high school girls rugby since 2014, and joined Lysa as an assistant coach for UKC in 2016. Since then, they have been working together, joined by Carolyn, to continue building a strong, competitive, and passionate group of individuals, on and beyond the field.
Courtnay fell in love with rugby in high school, and has been involved with the sport ever since. A decorated player, Courtnay played for the St. Francis Xavier  X-Women for 5 consecutive years, during which she and her teammates won 2 National Championships, including the programs first ever during her rookie year in 2006, and the second when she co-captained the team in 2011. While playing for St. FX, Courtnay was a leading scorer in both the AUS and CIS, an AUS All-Star, an Academic All Canadian, and was selected to CIS Tournament All-Star on multiple occasions. Her performances at St. FX earned Courtnay a call-up to train with the University Canadian 7's team; a team composed of the most elite players across the country; including future Olympians.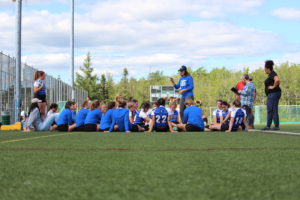 In addition to her playing accolades, Courtnay brings a wealth of leadership experience, holding coaching and managerial positions at the high school, collegiate, and provincial levels, while also serving as a wellness mentor.
Courtnay earned a Bachelor of Science in Human Nutrition in 2010, and completed her Bachelor of Education in 2012. She recently became a Certified Life Coach from the Centre for Applied Neuroscience, and is using her variety of skills and knowledge to support individuals and groups in the local community through her business, LEVEL UP Coaching & Consulting.