BA (St. Thomas), MA (Lancaster)
Recruiting Regions
Newfoundland, Nova Scotia, Ontario and Saskatchewan.
About Katrina
Born and raised in Halifax, Katrina studied English literature in both her BA, where she focused her thesis on the definitions of good and evil in the wizards of Lord of the Rings, and her MA, where she worked to redefine the nineteenth century relationship with paper documents. Through her experiences at St. Thomas University and Lancaster University, she shares the King's values of interdisciplinary and independent thinking. Katrina is looking forward to helping prospective students discover their passions and realizing their options at University of King's College.
---
Find out more about Katrina with these King's Rapid Fire Questions.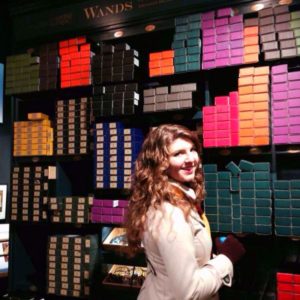 What's the most formative book you read in your undergrad?
"The most formative book I read in my undergrad would probably have been The Place of the Lion by Charles Williams. It was thanks to the ideas of this novel that I chose to write my honours thesis on the Lord of the Rings' wizards by Williams' contemporary and fellow Inkling, J.R.R. Tolkien."
Fave Halifax business?
"My favourite business in Halifax is Wafflelove, 5530 Kaye Street in the Hydrostone. The best waffles, perogies and friendly service in the city. It's a little hole in the wall with a maximum of 7/8 tables, but well worth the wait when full (which it constantly is)."
What TV show are you currently binging?
"On Netflix I am currently watching Marvel's The Defenders because I am a complete superhero geek and I love the Marvel universe."
What's your go-to recipe?
"My signature dish is crock-pot Frank's hot sauce pulled pork; the spicier, the better."
What's the most interesting thing you learned in your Masters?
"The most interesting thing I learned in my Masters was that Charles Dickens basically lived the life of all the poor, destitute children in his novels as he left school to work in a blacking warehouse while his father was incarcerated in Debtor's prison at the age of 11."
If you could invite any person to formal meal, who would it be?
"If I could invite anyone to join my formal meal table, dead or alive, it would probably be Elton John. Who doesn't want to be serenaded with the Circle of Life while sitting in your formal meal robes?"
What Hogwarts house would you be in?
"If I attended Hogwarts, I would be sorted into Ravenclaw: 'Wit beyond measure is man's greatest treasure'."