Lysa McGrath (she/her)
Cole Harbour, NS
Entering her 6th season with the Blue Devils, Lysa began her journey with Women's Rugby in 2015 as an Assistant Coach, before being appointed Head Coach in 2017. An active coach in the Halifax community, Lysa also coaches Millwood High School Women's & Dartmouth Pigdog Senior Women's Rugby teams. Additionally, Lysa is currently a mentee with the Black Canadian Coaches Association and NS Black and Indigenous Coach Mentorship Program.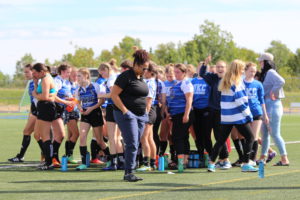 Lysa brings with her a wealth of knowledge and 14 years of playing experience at various levels. As a player, she comes from a winning background with St. Francis Xavier Women's Rugby, where she earned five consecutive AUS titles, 3 CIS National Silver Medals, & 2 CIS National Championship Gold Medals, while being named to 2012 AUS All Star Team. At the provincial level, Lysa has earned call-ups to the Nova Scotia Senior Woman's & the Atlantic Women's Rugby teams. During her playing career she had the opportunity to play alongside many hard-working and talented athletes, some of which are now Olympians and World Cup players.
Having received a Bachelor of Arts from St. Francis Xavier and a Bachelor of Social Work from Dalhousie University, Lysa works with the Halifax Regional Centre for Education as Attendance Support Worker.