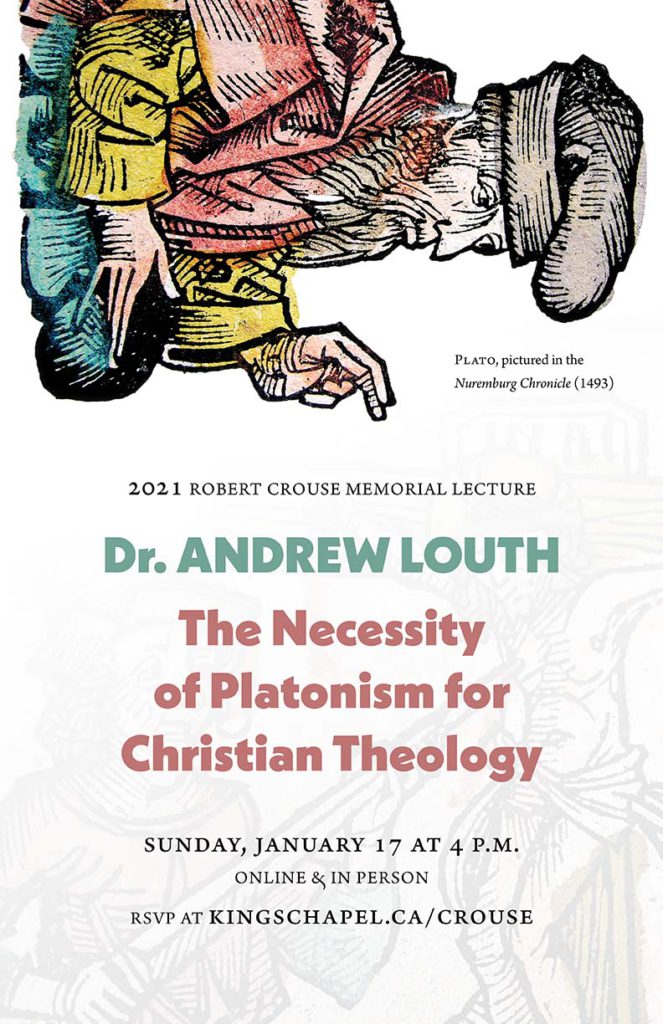 The Rev'd Dr. Andrew Louth will deliver the 2021 Robert Crouse Memorial Lecture, entitled "The Necessity of Platonism for Christian Theology" on Sunday, January 17 at 4 p.m.
The lecture will be delivered remotely, as Father Louth lives in England. All are welcome to join on Zoom from wherever they are. The lecture will be followed by a Q&A session. Please pre-register for this event at kingschapel.ca/crouse. Registration will close at 4 p.m. on Saturday, January 16.
"The Necessity of Platonism for Christian Theology"
The Platonic foundations of Christian theology was a central theme of the scholarship of Fr. Crouse. For him, the wisdom of the Greeks was not superseded by Christian revelation, but built upon and brought to its fulfillment. Building on his recent work on the writings of Hans Urs von Balthasar, Fr. Louth will explore this theme in honour of Fr. Crouse, he says, "hoping this will be a fitting tribute to one I much admire."
About our Lecturer
Father Andrew Louth is one of the foremost English-speaking Eastern Orthodox theologians alive today. He has been a professor of Patristic and Byzantine Studies at the University of Durham. His scholarly focus is in the Byzantine period of Greek Christianity (c. 500-1453), and embraces philosophical and artistic aspects of the period as well as historical and theological, although he also studies later (19th and 20th century) Russian and Romanian theology. He has published numerous articles, chapters, and monographs, the most recent monograph being Modern Orthodox Thinkers: From the Philokalia to the Present (IVP Academic, 2015).
About the Lecture Series
The Robert Crouse Memorial Lecture was founded in 2016 in honour of the Rev'd Dr. Robert Darwin Crouse, BA'51, DD'07, of blessed memory, scholar, priest, and organist, whose dies natalis is 15 January, 2011.
Through his renowned sermons, great learning, and gentle humility, Fr. Crouse educated and inspired a whole generation of priests, bishops, and academics, who are now serving in dioceses and universities throughout Canada, the United States, and Europe. An organist and harpsichordist, in the early 1970s Dr. Crouse established the current choir at King's whose execution of both polyphony and plainchant continues to enhance and shape the poetic liturgy of the King's Chapel. His writings and his love for the medieval Italian poet, Dante, continue to powerfully shape the personal and intellectual formation of students at the University of King's College and its Chapel.