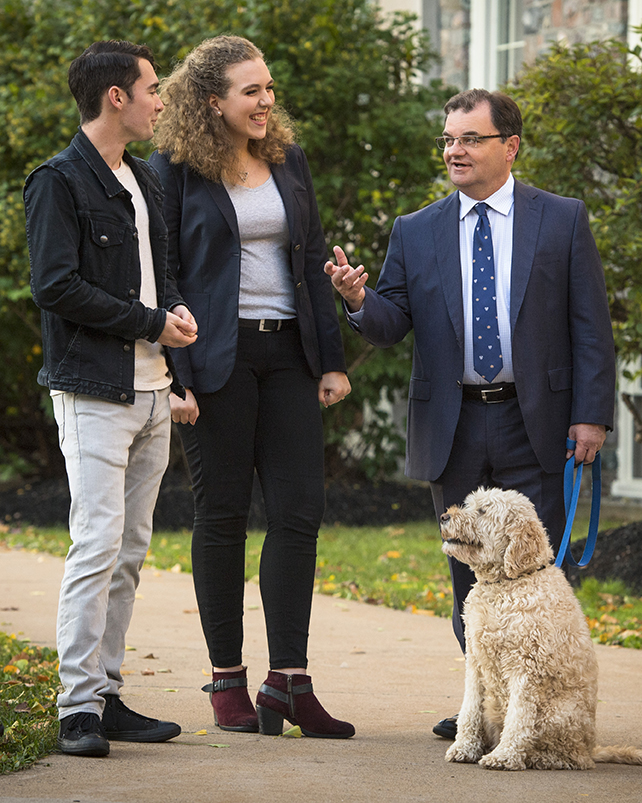 Welcome to the University of King's College.
Since becoming president in 2016, King's is a place I've called home. Considering I live on campus with my family this may seem obvious, but home is more than the place where we sleep. It's where we learn, connect, contribute, grow, and ultimately feel most welcomed and comfortable. And it's this idea of home that I share with King's students and other members of our community, whether they live on campus or not.
King's affects people in profound ways. Yes, in partnership with Dalhousie King's offers outstanding humanities programs that can be combined with an arts, science or music degree and its own outstanding journalism programs that prepare students to become deeper thinkers and creative communicators. But it's the integrated student experience, through which classroom learning informs and is enriched by learning (and life) that happens in the dining hall, chapel, gym, theatre, library, residences, President's Lodge, Quad and the greater community that makes the King's experience so transformative. Plus, through an academic affiliation with our neighbour, Dalhousie University, we are able to provide this immersive college experience while offering students access to everything that a research-intensive university with its more diverse undergraduate programs can offer.
Personal growth, be it intellectual, physical or spiritual, is accelerated at King's. Our community is incredibly active and enhanced by the varied and rich contributions of its members and their diverse personalities and gifts, including our students, alumni, faculty, staff and friends. We come together to support, inform and enlighten one another. Our students acquire, as touted by the ancient Greek philosophers, the most complete type of education: practical wisdom and an ability to transform experience into informed judgement. This prepares them not only for careers, but for life.
King's is a place seeped in history that learns from the past and adapts for the future. We are proud of our traditions yet flexible and open to change. I strive to serve King's and to ensure that its importance is understood and valued both on campus and in the wider world. Most of all, I strive, with many others, to ensure it is a welcoming home for all who choose King's.
– William Lahey, King's 25th President and Vice-Chancellor