Tuesday & Thursday evenings, 6:30-9 p.m. (Atlantic Time), June 15-July 9 on Zoom
Take advantage of the long days of summer to plant your literary seeds!
Intro to Memoir Bootcamp is a creative writing workshop for writers of all levels who wish to learn the power of memoir to harness personal experience into works of literary art. Folks without any formal writing experience are welcome, too! We will home in on a singular, pivotal moment in your life, and employ it as a focal point for a memoir. This workshop will teach you to use form, structure, theme, shape, metaphor and other elements of writing. You'll learn how to touch the universal by getting microscopic with the specific. We'll look at excerpts from contemporary and classic memoir to learn about voice, subjectivity, point of view, and temporality. You'll develop a polished chapter during this four-week workshop. Your pages will be workshopped in depth in class.
We will engage in energetic, supportive, vigorous, and compassionate discussion with fellow students on topics such as writing issues, craft points, publishing, and cultivating a writing practice. We'll discuss the ethical and personal considerations of using material from one's own life and how to delve past our own limitations while expanding our comfort zones. The group will meet twice weekly via live video classes with in-class generative exercises, craft lectures, and group workshops.
We will meet via Zoom.
We'll do generative writing exercises in class, with a short break.
There will be light "homework," and an expectation that you will write workshop pages.
You must email your drafts to the entire group one week before your scheduled workshop.
You are expected to provide detailed commentary to fellow workshop members regarding their pages and email them back to the author. Don't worry: I will offer guidance!
I will email you short readings to support classroom learnings!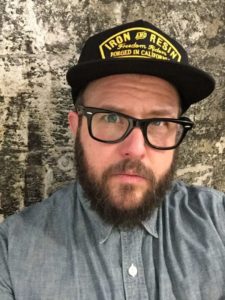 Cooper Lee Bombardier is an American writer and visual artist living in Canada. He is the author of the memoir-in-essays Pass With Care. His writing appears in The Kenyon Review, The Malahat Review, Ninth Letter, CutBank, Nailed Magazine, Longreads, BOMB, and The Rumpus; and in 15 anthologies, including the Lambda Literary Award-winning anthology, The Remedy–Essays on Queer Health Issues, and the Lambda-nominated anthology, Meanwhile, Elsewhere: Speculative Fiction From Transgender Writers, which won a 2018 American Library Association Stonewall Book Award. He teaches in the MFA in Creative Nonfiction program at University of King's College and in women and gender studies at Saint Mary's University.