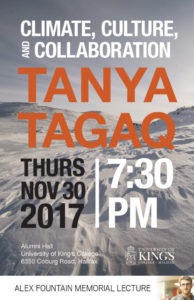 Experimental vocalist and artist Tanya Tagaq will deliver the 2017 Alex Fountain Memorial Lecture on Thursday, November 30 in Alumni Hall. She will give a personal talk about the geography and culture of Nunavut. She will bring the topics covered back to our similarities, rather than our differences, as a human species. Tanya believes our impact on this earth as life forms has not been positive, and she will outline ways that we can reconnect with each other, as well as with the earth. 
There is limited seating for this event. Priority will be given to King's students on a first-come, first-served basis.
About the Alex Fountain Memorial Lecture: Fred and Elizabeth Fountain and their daughter Katharine established the Alex Fountain Memorial Lecture in 2011 to honour Alex, who died in August 2009. This exceptional gift to the college enables the King's student body to invite a speaker of their choosing to the university each year. Previous lecturers include author Michael Ondaatje, philosopher Charles Taylor, Governor General Michaëlle Jean, philosopher and poet Jan Zwicky, author Miriam Toews, and author Joseph Boyden.