King's Contemporary Studies Society presents
The Conference of the Contemporary
Come out to the annual conference of the Contemporary! We have eleven amazing panelists presenting their work this year and we're excited to share it with you.
To attend, please RSVP through the Google form or email us at cspsociety@gmail.com.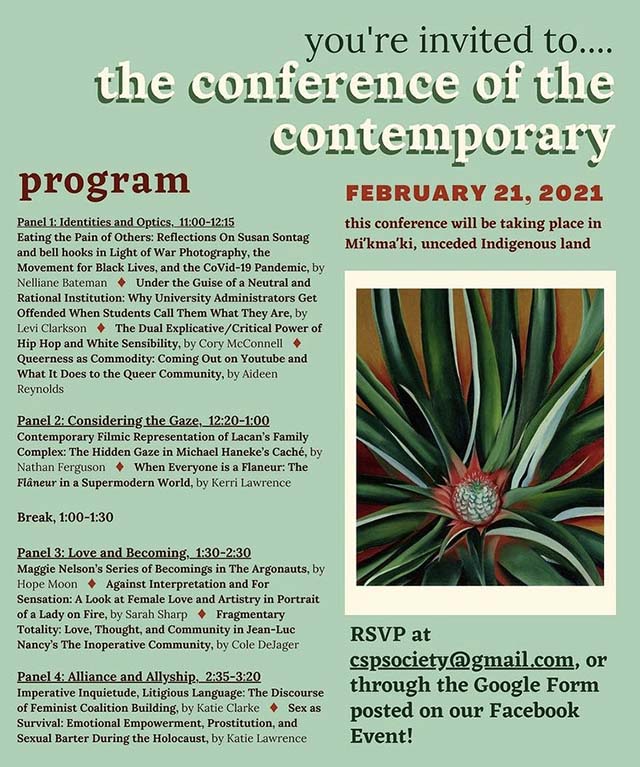 Conference Program
Panel 1: Identities and Optics 11 a.m. – 12:15 p.m.
Eating the Pain of Others: Reflections On Susan Sontag and bell hooks in Light of War Photography, the Movement for Black Lives, and the CoVid-19 Pandemic, by Nelliane Bateman
Under the Guise of a Neutral and Rational Institution: Why University Administrators Get Offended When Students Call Them What They Are, by Levi Clarkson
The Dual Explicative/Critical Power of Hip Hop and White Sensibility, by Cory McConnell
Queerness as Commodity: Coming Out on Youtube and What It Does to the Queer Community, by Aideen Reynolds
Panel 2: Considering the Gaze. 12:20 – 1 p.m.
Contemporary Filmic Representation of Lacan's Family Complex: The Hidden Gaze in Michael Haneke's Cache, by Nathan Ferguson
When Everyone is a Flaneur: The Flaneur in a Supermodern World, by Kerri Lawrence
Break, 1:00-1:30
Panel 3: Love and Becoming, 1:30 – 2:30 p.m.
Maggie Nelson's Series of Becomings in The Argonauts, by Hope Moon
Against Interpretation and For Sensation: A Look at Female Love and Artistry in Portrait of a Lady on Fire, by Sarah Sharp
Fragmentary Totality: Love, Thought, and Community in Jean-Luc Nancy's The Inoperative Community, by Cole DeJager
Panel 4: Alliance and Allyship, 2:35 – 3:20 p.m.
Imperative Inquietude, Litigious Language: The Discourse of Feminist Coalition Building, by Katie Clarke
Sex as Survival: Emotional Empowerment, Prostitution, and Sexual Barter During the Holocaust, by Katie Lawrence