King's Co-Op Bookstore and Penguin Random House present
Desmond Cole
in conversation with El Jones about his new book The Skin We're In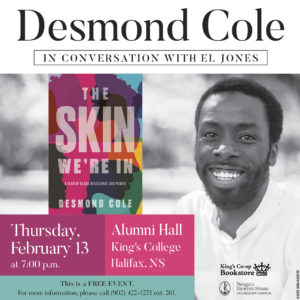 Find the event on facebook.
Join the King's Co-Op Bookstore for the Halifax Launch of Desmond Cole's The Skin We're In as he talks with poet, professor, and activist El Jones, followed by a book signing.
A bracing, provocative, and perspective-shifting book from one of Canada's most celebrated and uncompromising writers, Desmond Cole. The Skin We're In will spark a national conversation, influence policy, and inspire activists.
In his 2015 cover story for Toronto Life magazine, Desmond Cole exposed the racist actions of the Toronto police force, detailing the dozens of times he had been stopped and interrogated under the controversial practice of carding. The story quickly came to national prominence, shaking the country to its core and catapulting its author into the public sphere. Cole used his newfound profile to draw insistent, unyielding attention to the injustices faced by Black Canadians on a daily basis.
Both Cole's activism and journalism find vibrant expression in his first book, The Skin We're In. Puncturing the bubble of Canadian smugness and naive assumptions of a post-racial nation, Cole chronicles just one year—2017—in the struggle against racism in this country. It was a year that saw calls for tighter borders when Black refugees braved frigid temperatures to cross into Manitoba from the States, Indigenous land and water protectors resisting the celebration of Canada's 150th birthday, police across the country rallying around an officer accused of murder, and more.