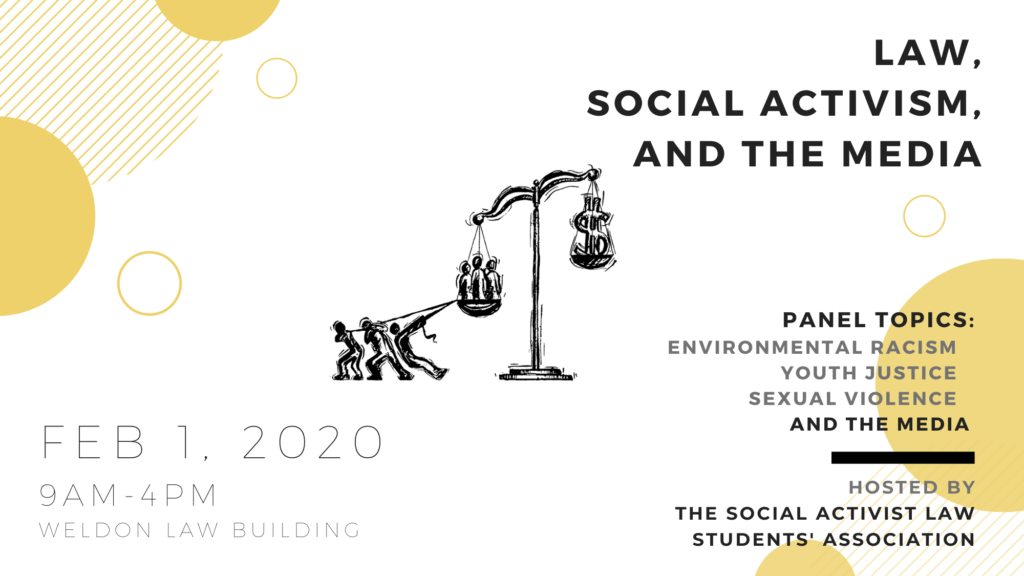 The Social Activists Law Students' Association would like to welcome you to this year's IDEALaw Conference on Law, Social Activism and the Media. This conference will explore how the media, the law, and activist movements all impact and shape each other. Panels will dive into the role of the media with respect to issues of environmental racism, sexual violence, and youth justice; and workshops will be hosted by El Jones and Emma Halpern.
Environmental Racism and the Media
Dr. Ingrid Waldon, author of There's Something in the Water: Environmental Racism in Indigenous and Black Communities and associate professor at the School of Nursing, Dalhousie University
Natalie Clifford , lawyer at Clifford Shiels Legal whose expertise includes aboriginal and indigenous legal issues as well as communications and public relations.
Louise Delisle, founder and president of Shelburne's South End Environmental Injustice Society (SEED)
Additional panellist TBA
Moderator: Dr. Ian G. Stewart, Assistant Professor of Humanities, University of Kings College
Sexual Violence and the Media
Angel Moore, Video Journalist at Aboriginal Peoples Television Network
Maggie Rahr, Journalist at The Nova Scotia Advocate, CBC, The Coast Halifax
Jordan Roberts, Sexualized Violence Prevention and Response Officer, University of Kings College
Ardath Whynacht, Professor of Sociology, Mount Allison University
Youth Justice and the Media
Shawna Hoyte, Q.C., Counsel at Dalhousie Legal Aid Clinic
DeRico Symonds, Program Manager of HRM Youth Advocate
and first voices of Halifax youth
Registration for this conference is free and open to the public. Register at Eventbrite to attend.