Night FYP Lecture Series
Alden Nowlan: Poetry and Song
Featuring performances by Stranger Still and Al Tuck and a talk by Brian Bartlett
"These poems are enough to make you want to put your guitar down." Al Tuck, BA'88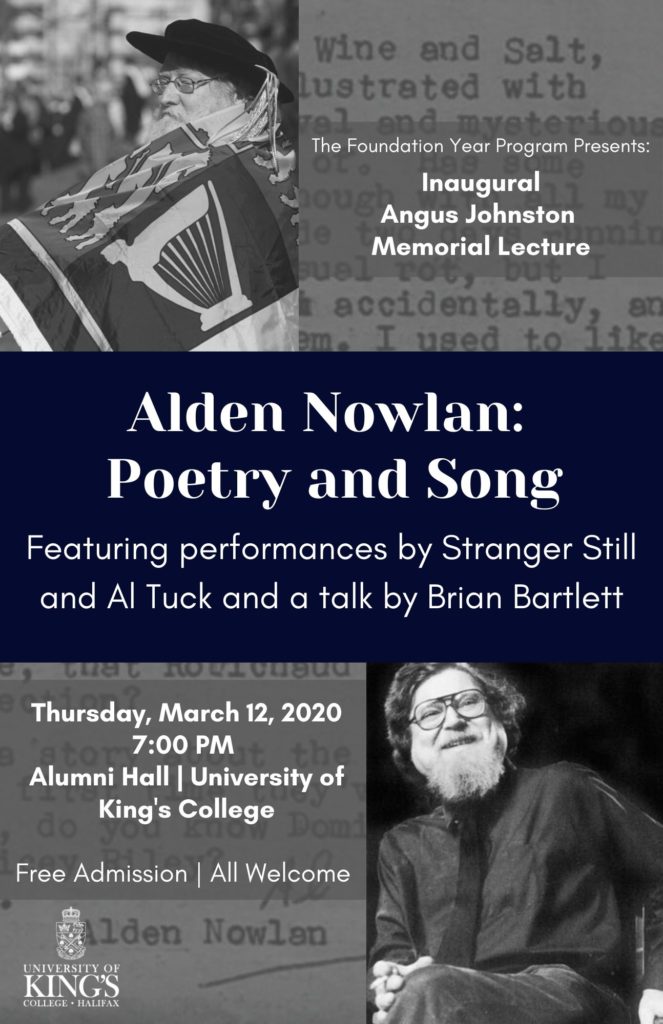 The inaugural Angus Johnston Memorial Lecture will be dedicated to one of Angus's favourite poets, Alden Nowlan (1933-1983). Journalist, essayist, fiction-writer and playwright, Nowlan was most celebrated as a poet of great skill, versatility and compassion. U.N.B. writer-in-residence for the last fifteen years of his life, Nowlan developed many roles in his poetry, including those of clear-eyed observer, social satirist, solitary brooder, keen historian, comic fantasist, confessional friend, and questioner of human selfhood. Readers from coast to coast and around the world have been entertained and moved by his work.
Brian Bartlett, who will provide an overview of Nowlan's poetry and life, is editor of Collected Poems of Alden Nowlan (Goose Lane Editions, 2017), and of selected volumes by other poets, including Maritimers Don Domanski, Robert Gibbs and Dorothy Roberts. Bartlett first met Nowlan while a grade-ten student in Fredericton in the winter of 1969. He is the author of many collections of poetry and prose and taught Creative Writing and literature at Saint Mary's University in Halifax for nearly three decades before his retirement two years ago.
The evening will also feature musical presentations involving former students of King's and Dalhousie. Like Alden Nowlan, Pete Johnston spent his youth in Hants County, Nova Scotia. While still a student in Halifax in the late 1990s Johnston developed what he calls "a love for Nowlan's words" and began to set the poet's poetry to music. In 2001 he moved to Toronto, where he studied Ethnomusicology and performed widely as a jazz bassist, writing compositions that gave his fellow musicians freedom to invent spontaneously. A recent recording grounded in eleven Nowlan poems, Songs of Bread, Wine and Salt, marks a new direction in Johnston's work, its songs "entirely composed rather than improvised." His group Stranger Still includes the vocalists Mim Adams and Randi Helmers and the bassist Rob Clutton; for his Nowlan work, Johnston sets aside his bass to play guitar.
Singer-songwriter Al Tuck, also a former student of King's, is no stranger to fans of original songs that ring with memorable melodies, sharp images and bittersweet stories. Over a quarter of a century and more than ten CDs, Al has become so revered as a songwriter that three years ago a tribute album was released with other musicians interpreting fifteen of his songs. Tuck is a long-time reader of Alden Nowlan's poetry, and wrote an unforgettable blurb for the back cover of the poet's Collected Poems. Angus Johnston spent the last night of his life with friends listening to the music of Al Tuck: it was a beautiful night.