Several times each semester, President Lahey brings a King's alum to have lunch in the Boardroom with current students. Together, they enjoy a delicious meal and casual conversation.
This year, due to Covid-19 gathering restrictions, the event will take place in the King's Boardroom.
Guest Alum – Kathryn Morse, BJ '89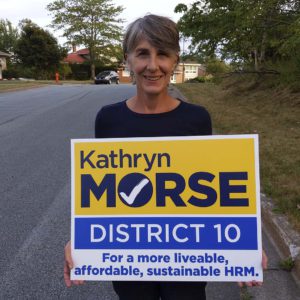 The last thing Kathryn Morse, BJ '89, imagined she'd be doing after her time at King's was walking door to door, asking thousands to vote for her in a municipal election. With another degree in environmental planning from Dalhousie University, she worked as a TV journalist at the CBC for 15 years and in environmental conservation with groups like the Nature Conservancy of Canada, when she decided to pivot once more.
Kathryn knew something of politics having served two ministers in Darrell Dexter's NDP government, she just couldn't imagine she'd win a municipal seat in the 2020 election. But with the help of her husband, daughter and a small team knocking signs into the ground, in 2020 she beat seven others candidates to win her position as Halifax Regional Municipal (HRM) councillor for district 10. A renaissance woman, who loves to read and who's education has informed all of her work, Kathryn's excited to come back to King's to answer questions and talk about what it's like to one of eight female councillors – who for the first time have achieved gender parity on council.
Sign Up Now!
More Lunches in the Boardroom
Fall term
Thursday, October 14, 2021
Friday, November 26, 2021
Winter term
Thursday, March 3, 2022
Friday, March 18, 2022