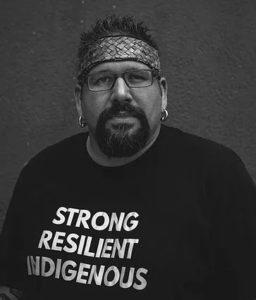 Dion Kaszas is an internationally acclaimed tattoo artist, cultural tattoo practitioner, painter, teacher, and scholar of Hungarian, Métis, and Nlaka'pamux (Interior Salish) heritage. He has been an invited artist at tattoo festivals, both national and international, and his work has appeared in Skin Deep Magazine, The World Atlas of Tattoo, Tattoo Traditions of Native North America and most recently the television series Skindigenous which premiered in 2018 on the Aboriginal Peoples Television Network. Dion is one of the founding members of the Earthline Tattoo Collective which aims to enhance, expand and support the work of traditional and cultural Indigenous tattoo practices across Canada. Dion holds a Master's degree in Indigenous Studies from the University of British Columbia Okanagan in Kelowna, B.C. His area of research is Indigenous tattooing, specifically the revival of Indigenous peoples' tattooing practices, using Indigenous and creative research methodologies.
This virtual discussion is free to attend and accessible to the public. The talk is hosted on Zoom and is a secure space where audience members will only be able to listen without video and type questions in the chat.
---
The research cluster Memory Activism: Collaborative Processes of Counter-Memorialization, consisting of faculty and students from the University of King's College and NSCAD University, are facilitating a free online speaker series on the topic of memory activism between March 15 and May 5, 2021.