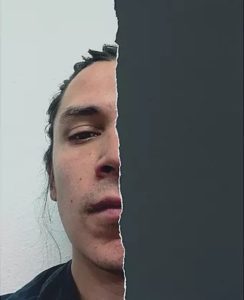 Nicholas Galanin is a Tlingit/Unangax̂ multidisciplinary artist. Incorporating mediums ranging from sculpture and installation to video, performance, music, and sound, Galanin investigates collective memory and contemporary culture through connections with the land and place-based histories. His work has both roots and reach; it resides in numerous public and private collections and has been featured in solo and group exhibitions worldwide. This past year, he received the VIA Fund for Artistic Production for his work Natural Forces with Merritt Johnson and presented his exceptional installation, Shadow on the Land, an excavation and bush burial, as part of the 22nd Biennale of Sydney. Galanin apprenticed with master carvers, earned his BFA at London Guildhall University, and his MFA at Massey University. He lives and works with his family in Sitka, Alaska.
This virtual discussion is free to attend and accessible to the public. The talk is hosted on Zoom and is a secure space where audience members will only be able to listen without video and type questions in the chat.
---
The research cluster Memory Activism: Collaborative Processes of Counter-Memorialization, consisting of faculty and students from the University of King's College and NSCAD University, are facilitating a free online speaker series on the topic of memory activism between March 15 and May 5, 2021.