The King's Theatrical Society presents: The Bald Soprano by Eugene Ionesco
Directed by Gaby Milner, stage managed by Sadie Quinn and produced by Kath Burke and Hal Rotman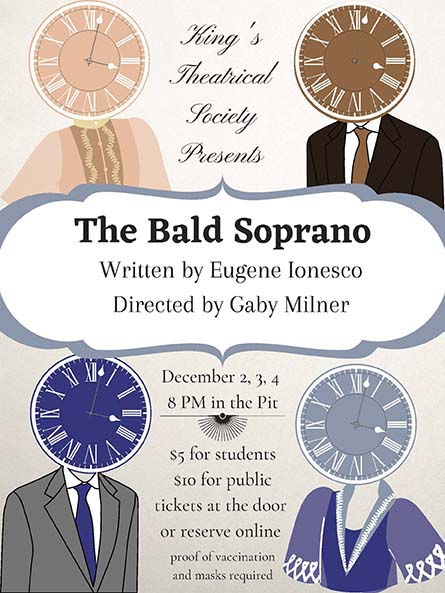 This fall's main season production will be performing on December 2, 3 and 4 at 8 p.m. in the Pit Theatre at King's!
The Smiths and the Martins are two very nice English couples having a proper dinner party. So why can't the Martins recognize each other? Why do the clocks show the opposite time? And by God, who is ringing the doorbell? The Bald Soprano is a classic piece of Theatre of the Absurd: chaotic, hilarious and profound.
Tickets will also be available for purchase FOR CASH in the Arts & Administration Building lobby on the nights of each performance.
Proof of full vaccination and masks required.
Banner Image: Serge Lachinov (копия, обработка для wiki), "The scene from play: La cantatrice chauve" CC BY-SA 3.0, via Wikimedia Commons