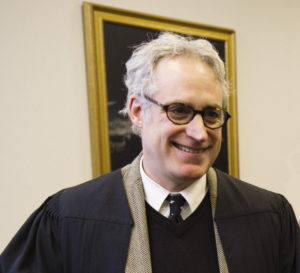 The Board of Governors of the University of King's College is delighted to announce the appointment of Dr. Peter O'Brien as Vice President of the University of King's College effective July 1, 2017.
"I'm a proud alumnus, and so I've long appreciated the distinctive contribution King's makes to higher education in the province and in Canada. I've cherished the opportunity to work with King's students and colleagues while a joint faculty member at Dal," said Dr. O'Brien. "I'm just thrilled at the prospect of spending more time at King's, and excited to continue that collaboration in new ways."
A Halifax native and graduate of King's, O'Brien has a MA in Classics, Dalhousie University and a PhD in Classical Studies, Boston University. A King's Carnegie professor and Assistant Professor in the Classics Department of Dalhousie University's Faculty of Arts and Social Sciences since 2000. O'Brien also teaches in King's Foundation Year Programme. O'Brien, an award winning teacher, has published widely and presented at Classics conferences throughout North America as well as England.
"We are delighted that Dr. O'Brien will be joining King's small administrative team," said President William Lahey. "I look forward to working with him."
An academic stalwart, O'Brien volunteers extensively with Halifax Humanities and the Liber Prison Humanities Program at Burnside Correction Centre. He sings in the King's Chorus and has been the Public Orator at King's since 2011.
O'Brien will be taking over from Professor Kim Kierans, who has held the post since 2010. The King's Vice President is an internal post open to the members of the King's Faculty.