2023 Judge J. Elliott Hudson Award
Karla Mendes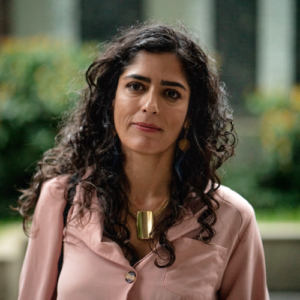 Karla Mendes, MJ 2014, is an award-winning Brazilian journalist working as a Rio de Janeiro-based investigative and feature reporter for Mongabay and a fellow of the Pulitzer Center on Crisis Reporting Rainforest Investigations Network.
She has been working as a correspondent for international outlets since 2015, and since 2017, she has specialized in covering environmental and land issues. She worked as a land and property rights correspondent for the Thomson Reuters Foundation from August 2017 to December 2018. She joined Mongabay in July 2019 as contributing editor.
Mendes was a student in the MJ investigative data journalism program at King's, in the 2013-14 academic year. Since then, her trajectory as an investigative journalist for international outlets has soared, accompanied by multiple international awards for her excellence in investigative reporting and the relevant impacts triggered by her journalism.
In February 2023, she was a winner of the SEAL Journalism Environmental Award with distinction for her "powerful work covering the continued encroachment of global corporations into Indigenous Amazon lands."
In July 2022, she won second place in the Society of Environmental Journalists Awards for outstanding investigative reporting for an 18-month investigation that unveiled how "sustainable" palm oil triggered deforestation and water contamination in Brazil's Amazon, affecting Indigenous people and traditional communities. Published in both English and Portuguese, the investigation is being used as evidence to hold palm oil companies accountable for water contamination. In April 2022, the investigation won third place in the Fetisov Journalism Awards in the Excellence in Environmental Journalism category.
In December 2021, Mendes won first place in the Geneton Moraes Neto Journalism Awards for the article "Farmers Are Paid To 'Produce' Water in the Fight Against Scarcity," published in 2018 by the Thomson Reuters Foundation and Reuters Brazil.
In October 2021, the documentary film This Place Is Also Mine: Brazil's Indigenous on Prejudice in the City, directed by Mendes, received the Jackson Wild Special Jury Recognition. The documentary is part of a series of eight data-driven stories she coordinated with Brazil-based startup Ambiental Media and final support from the Pulitzer Center. The presentation text of the series is being used in a book for high schools.
In 2020, Mendes won the top award in the Outstanding Explanatory Reporting category in the Society of Environmental Journalists' Awards. She won for a project with Max Baring, published by Thomson Reuters Foundation about Maranhão's Guardians of the Forest. The documentary was honored in the Tulum WE Film Festival in July 2022 and by the Colorado Environmental Film Festival in 2020. It received an honorable mention at the Naples Human Rights Film Festival in 2019.
Prior to that, she was a business reporter for 14 years in Rio, Madrid, Brasília, and Belo Horizonte, including with newspapers O Globo, O Estado de S. Paulo, Expansión, and news agency S&P Global Market Intelligence. During that period, she won several top Brazilian business journalism awards as part of reporting teams and three top journalism awards individually with a series of investigative stories about Pirates in the Amazon, which uncovered high incidence of theft of diesel oil on ferries transporting cargo on the Brazilian Amazon rivers.
At every opportunity Mendes credits her King's MJ degree and how it put her on the trajectory to be an international correspondent and investigative reporter for English-news outlets. Throughout her MJ degree she acquired skills that enabled her to change her mindset to write stories in English — as her first language is Brazilian Portuguese. It was also during her Master's that she published her first story in English with Reuters, breaking an international story about a Brazilian Senate inquiry that found the country unprepared to deal with spying, unprecedent in the School of Journalism at King's.
The shift in her career from business to environmental journalist happened with a reporting grant from the Society of Environmental Journalists as a milestone. The grant that financed her first trip to the Amazon and she co-authored six environmental stories, including investigative pieces into illegal mining and "cow laundering" for the Thomson Reuters Foundation (TRF), with a Canadian reporter from Halifax who was TRF's correspondent at the time. A couple of months later, he moved back to Canada and Mendes became TRF correspondent for property rights and environmental issues in Brazil.
Mendes has an MBA in finance from São Paulo's Fundação Instituto de Administração and is fluent in English, Spanish, and Portuguese and is able to report in these three languages.
Photo by Fabio Nascimento