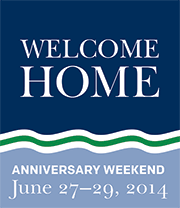 In 2014-15, King's marked 225 years of innovation and the pioneering spirit that began when the college was founded in Windsor in 1789 and have shaped it into what it is today.
On 27-29 June 2014, over 500 guests, including three former presidents, past and present faculty, alumni from the 1940s to the present, and current students gathered on the quad to celebrate the anniversary with a weekend of festivities, ranging from the Godfrey Cup Fun Run and the Chancellor's Colloquium with Dr Kevin Lynch, to a conversation with King's authors, a garden party luncheon with a dedication to King's architect Roy Willwerth, and King's version of The Debaters, moderated by former president Dr John Godfrey.
All the photos from this fabulous weekend are now in and the galleries below contain additional 'moments' to enjoy.