Margo Pullen Sly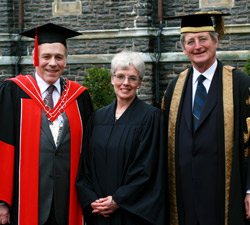 In June 2006, Margo Pullen Sly retired after twenty years of service to the College as Assistant to the President. Born in Halifax, she received her education in Nova Scotia, British Columbia and Ontario, earning the Diploma in Secretarial Science from Ryerson Institute Technology. The positions of Secretary for the President at Ryerson and Secretary to the Director at the Dalhousie Law Alumni Office were the professional stepping-stones which led to her King's appointment in August, 1986.
Four successive Presidents benefited from her efficiency, concern for detail, skills at problem-solving, and command of protocol and tact: all touched with the dedication to the institution she loved. Each member of the King's family has their own memory of her concerned assistance, calm resolve, and smiling verve. Her father was Rear Admiral Hugh Pullen (awarded a posthumous Honorary Doctorate of Common Law in 1983), and she carried on the great traditions of discipline that saved many a situation from shipwreck. As one Past President has written: "Margo has been the face of King's . . . clear like a diamond . . . someone you can totally rely upon." As is well known, the name Margo is derived from the Latin word for pearl, Margarita, and today we wish to recognize our "pearl of great price."
Margo enjoys, and indeed has performed, Gilbert and Sullivan. Hopefully these verses may sum up her contribution to King's:
At her desk in the office where she did preside,
Oh Margo, our Margo, dear Margo;
The College's trust in her did reside,
Oh Margo, our Margo, dear Margo.
When the Presidents worried "What shall I do now?"
As a cold perspiration bespangled their brow,
She always provided the 'what', 'where' and 'how',
Oh Margo, our Margo, dear Margo.
Over twenty good years in which Kings has evolved,
Oh Margo, our Margo, dear Margo;
Good order has flourished and crises been solved,
Oh Margo, our Margo, dear Margo.
In the new and in ritual by service so true
For the students, alumni, staff, faculty too,
So much that we are now is owed to you,
Oh Margo, our Margo, THANKS Margo.
Mr. Chancellor, on behalf of The University of King's College, I ask you to confer upon Margo Pullen Sly an Honorary Fellowship.
Delivered by Dr. Walter Kemp at the 2007 Encaenia Ceremony on May 17, 2007.
Vice-Admiral Glenn V. Davidson
Glenn V. Davidson is a native of Truro, Nova Scotia. Already having enrolled in the Naval Reserve 1970, he graduated from King's with a Bachelor of Arts in 1973. The following year he transferred to the Regular Forces, commencing a meritorious career which for over thirty years has been recognized by steady promotion and increasingly significant responsibilities.
A Lieutenant-Commander in 1982, by 2002 as Rear Admiral he was appointed Commander of Maritime Force Atlantic Headquarters in Halifax, the largest naval presence in Canada. In 2004 came promotion to his present rank of Vice-Admiral. His steady advancement is due in good measure to the varied and versatile experiences to which he has applied his leadership skills. At home on the sea, he has held command positions both in fighting ships and supply vessels. Within the land-based infrastructure he has been an able administrator as Director General Naval Personnel for the Chief of the Maritime Staff, Ottawa, and subsequently Chief of Staff, Assistant Deputy Minister (Human Resources Military). He knows the two oceans between which Canada holds dominion from sea-to-sea. He possesses diplomatic skills, proven in 1992-95 when he was Canadian Forces Attaché, Canadian Embassy Tokyo, and now counterbalancing this geographically during his present role as Canadian Military Representative to the Military Committee at NATO Headquarters in Brussels. On Sea and Land, East and West, he is esteemed for this: that he not only values the fight but also treasures the peace.
Ever since World War II, when, as HMCS KINGS, the College was the site of officer training for the Royal Canadian Navy, our alumni have continued a fine record of service to the nation and to the world for security and for assistance. Francis Bacon asserted: "He that commands the sea is at great liberty", and we are proud that in this distinguished naval leader a new generation may witness a commander who uses his great liberty to act with great service.
Mr. Chancellor, on behalf of The University of King's College, I ask you to confer upon Vice-Admiral Glenn V. Davidson, CMM, CD the degree of Doctor of Civil Law, honoris causa.
Delivered by Dr. Walter Kemp at the 2007 Encaenia Ceremony on May 17, 2007.
Natalie Zemon Davis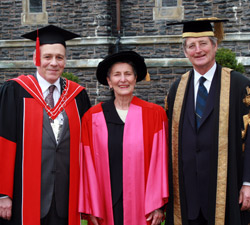 Born in Detroit, 1928, Natalie Zemon Davis was educated at Smith and Radcliffe Colleges, and earned her Ph.D. in 1959 from the University of Michigan. She has held teaching positions at Brown University, the University of California at Berkeley, l'Ecole des Hautes Etudes en Sciences Sociales in Paris, Whitney Humanities Center at York University, Balliol College Oxford; for 1996-97 she was Northrop Frye Visiting Professor of Literary Theory, University of Toronto. The Henry Charles Lea Professor of History Emerita at Princeton University, she now resides in Toronto where she is University of Toronto Adjunct Professor of History and Medieval Studies and Senior Fellow. Central to her research and lectures was the history of early modern France, but her impact on historical studies has been multi-textured and cross-disciplinary, pioneering courses and writings which link history with anthropology, women's studies, Jewish studies, literary fiction and film. A superb essayist, her published books include Society and Culture in Early Modern France, Fiction in the Archives: Pardon Tales and their Tellers in Sixteenth-Century France, Women on the Margins: Three Seventeenth Century Lives, and the well-known study of identity and law, The Return of Martin Guerre. The recipient of several honorary degrees, she has been elected a Fellow of the American Academy of Arts and Sciences, a Corresponding Fellow of the British Academy, President of the Society for French Historical Studies, President of the American Historical Association, and First Vice-President of the International Congress of Historical Sciences.
Time allows the highlighting of only three of Professor Davis' many gifts to history and historians. First, that the historian can be impressed by the quality of the uncompromising fired by passionate engagement; this passion already had been tempered and tested personally as a graduate student together with her husband Chandler during the turbulence and resistance of the McCarthy era which has made her into what the ACLS has praised as "one of the most emotionally intense historians in the profession." Second, that scholarship must be informed by intuitive interaction among disciplines, what the Cambridge historian C. H. Wilson affirmed as "the basic principle that history is a true counterpoint between man and his circumstances," requiring that in an age of enhanced sources and techniques of information retrieval – again quoting Wilson – "The web of history must be re-knit, so that the new strands of knowledge become part of its warp and weft, and not merely frills round its edge." Third, that the study of history is able to bring hope to the contemporary: that out of the turmoil and despair of two millennia, as she has put it, "you meet people trying to think in new ways about human values. Something always bubbles up."
In the interdisciplinary programmes of King's we are pleased that both studies and students are bubbling. So it is fitting that we recognize a master chef of mental cuisine, as I ask you Mr. Chancellor, to confer upon Natalie Zemon Davis the degree of Doctor of Civil Law, honoris causa.
Delivered by Dr. Walter Kemp at the 2007 Encaenia Ceremony on May 17, 2007.
Naomi Klein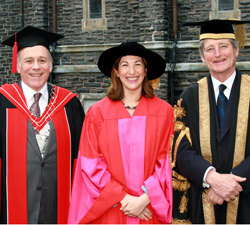 Born into a politically involved Montreal family in 1970, Naomi Klein now lives in Toronto. Her initial writing experience was gained when contributing to The Varsity as writer and editor-in-chief. She was deeply affected by the 1989 École Polytechnique massacre, drawing her creative attention both to feminism and to those other salient social issues her views on which as an author and activist have made her an icon to those concerned about the crises of the contemporary. She became the editor of THIS Magazine, then a weekly columnist for The Toronto Star. In 2000 the publication of her book No Logo vaulted Naomi Klein into the vanguard of the anti-globalization movement. Translated into over two dozen languages, this "movement bible" (as The New York Times called it) won the 2001 Canadian National Business Book Award and the French Prix Médiations. Her 2002 collection of articles and speeches entitled Fences and Windows further raised her profile as a voice of conscience, as have her regular columns for The Nation, The Guardian, and The Globe and Mail. A frequent media commentator and public lecturer, she is a former Miliband Fellow at the London School of Economics.
In the September 2004 issue of Harper's Magazine she firmly planted the Iraq invasion within the context of neocon free market economy. The same year she co-produced with her husband Avi Lewis a documentary film, The Take, profiling the dynamics of a workers collective in an Argentinean foundry. An official selection of the Venice Biennale, The Take won the Best Documentary Jury Prize at the American Film Institute's Film Festival in Los Angeles. The Shock Doctrine, her new book about Disaster Capitalism will be released this September.
In the declining years of an Old World Order Wilfred Owen wrote: "All the poet can do today is to warn/That is why the true Poets must be truthful." Naomi Klein herself has warned that "We are looking to brands for poetry and for spirituality" because these are human needs of which our "communities and each other" are devoid! And so our own century turns to the journalist, to the media commentator, and to the activist to so inform a new generation that they will not "lose the name of action." The youth of King's are maturing as an involved community of caring: through journalistic practice, in long-term North End educational and social animation, and by participation in individual projects such as Holocaust education and career awareness. Thus it is appropriate that this institution recognize inspirational leadership in the human condition, leadership personified by Ms. Naomi Klein on whom Mr. Chancellor, on behalf of The University of King's College, I ask you to confer the Degree of Doctor of Civil Law, honoris causa.
Delivered by Dr. Walter Kemp at the 2007 Encaenia Ceremony on May 17, 2007.
The Reverend Doctor Robert Darwin Crouse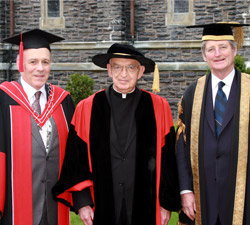 Just a few months after his birth in Winthrop Massachusetts, 1930, Robert Crouse's family moved to Lunenburg County's Crousetown, which ever since has been his home. After graduating from King's in 1951, he earned an S.T.B. (cum lauda) from Harvard Divinity School, Master of Theology (1st class honours) from Trinity College, University of Toronto, and a Ph.D. from Harvard in 1970. Trinity College awarded him an Honorary Doctor of Divinity in 1983. An Assistant Professorship in Church History and Patristics at Bishop's University preceded his appointment to the Classics Department of Dalhousie in 1963. He joined the faculty of King's College in 1979. He is a Dalhousie and Kings Professor Emeritus and Inglis Professor. At Kings he served as Director of the Foundation Year Program, Vice President, and Clerk of Convocation. For Kings students and faculty alike he became a voice of wisdom, knowledge and inspiration through his academic teaching and his sermons at Thursday Chapel. His reputation as a respected scholar spread across North America and in Europe through his participation in international conferences, his visiting lectures and the publication of over seventy articles, reviews, and translations. Three times "Visiting Professor of Patrology, Institutum Patristicum Augustinianum, Pontifical Lateran University Rome," he is the first non-Roman Catholic to be so appointed. He has been active in the life of the Diocese of Nova Scotia, is a member of the Primate's Theological Commission, and recently was Bishop Short Canon Theologian for the Diocese of Saskatchewan. His teaching and research has illumined for his colleagues and students the field of Theology and Philosophy Ancient and Medieval, Greek and Latin Patristics, Mediaeval Platonism and interpretation of Aristotle, Dante, Anglican theology, the Book of Common Prayer, and church music, His treatment of Dante became a formative element of the Foundation Year Programme, which was also enhanced by the lectures on his beloved Palestrina and Bach. For not only is he a scholar and priest, but also a musician, whose influence has been effective both in Chapel worship, in his assistance as organist in the Parishes of Petite Riviere and New Dublin and in his Crousetown special choral services.
Knowledge imparted with wisdom, keen intellect delivered with clarity and concision of word, humility of spirit and musicality of soul: these are qualities of Father Crouse which are his endowment to all who know him and who recognize these virtues as the fruits of Faith. For truly he fulfills the Augustinian admonition to the servants of God who "do their work upon this earth . . . Let them be a pattern to the faithful by living among them and rousing them to imitation . . . so that the earth may produce a living soul." Thomas à Kempis reminded us that "A man's achievements are often discussed, but seldom the principles by which he lives. We enquire whether he is . . . a good writer, a fine singer, or a hard worker: but whether he is humble-minded, patient and gentle, devout and spiritual is seldom mentioned . . . . Grace considers his inner disposition . . . [and] Grace trusts in God and cannot be deceived." In the Reverend Doctor Robert Darwin Crouse we have been blessed by a man of accomplishment and of grace, and so, Mr. Chancellor, I ask you on behalf of The University of King's College to confer upon him the degree of Doctor of Divinity, honoris causa.

Delivered by Dr. Walter Kemp at the 2007 Encaenia Ceremony on May 17, 2007.