Kathryn R. Burton
Domina Cancellaria; praesento vobis Catherinam R. Burton, ut admittatur ad gradum Doctoris in Jure Civili (honoris causa).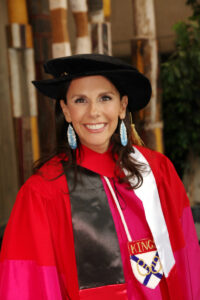 Before becoming Chief of Staff for the city of Boston in 2020, Kathryn Burton served as Vice-Chair of the city's Rose F. Kennedy Greenway. This vibrant swath of greenspace, public squares, and cultural hub points runs in a lush line through several historic neighbourhoods, replacing an outmoded, physically divisive, and ugly elevated highway. By replacing a barrier with a porous gathering place for citizens to enjoy natural and artistic beauty in common, the Greenway keeps traditional districts intact, while at the same time opening them to each other and all. Important as Ms. Burton's many other public service appointments have been, her affiliation with a project like the Greenway is emblematic of her life and career to date. For Kathryn Burton is by upbringing, education, and choice a crosser of borders. She seeks to translate meaning and facilitate communication for those dwelling on either side, thereby building communities with better self-awareness and integrity.
Born in the United States, Burton is a member of the Gesgapegiag Mi'kmaw community in Gaspé, Que., spent her formative years in Eskasoni (N.S.), and has family in Membertou (N.S.) and Listuguj (Que.).* She is a dual citizen of Canada and the United States, and one of her first jobs was as an Officer of Immigration, Refugees, and Citizenship Canada. Having come to King's Foundation Year Program in 1994 as a Dr. Carrie Best Scholar, she completed a joint honours in the then new Contemporary Studies Program in 1998. After an MA at Dartmouth College in New Hampshire, Ms. Burton began her Boston-based career with the Barbara Lee Foundation, which advocates for women's equality and representation in American politics and contemporary art. Following that she ran the successful campaign of Steve Grossman for Massachusetts State Treasurer, subsequently serving as his Chief of Staff. When Mayor Marty Walsh named her to the same post for Boston in 2020, that city, and the world, was at the height of the COVID-19 pandemic. The first Indigenous person in Boston's history to hold the position, Ms. Burton gained high accolades for her management of that crisis, which included the five-day completion of a field hospital for overflow patients. She is profiled in Retired US Army General Stanley McChrystal's 2021 book Risk: A Users Guide, which gives her determined communication strategy special notice. Upon Marty Walsh's appointment as Secretary of Labor by President Biden in 2021, Ms. Burton became a partner in Boston's Sparks Street Capital. She is an advisor to Harvard's Institute of Politics and the Association of Marshall Scholars, among other prominent clients. She has served on the Board of the Boston Children's Museum and is currently on the Board of the Canadian-American Business Council, which fosters dialogue between private and business sectors in the two countries.
Over the past several years, King's has embarked on a journey towards reconciliation in partnership with the Mi'kmaw Nation. At the center of that partnership is the commitment King's has made to pay the tuition of up to three Mi'kmaw students per year who are pursuing an honours degree in journalism at King's. Always a proud alumna of the College, in response to this initiative Ms. Burton volunteered to share her expertise in institutional mobilisation, organization, and communication by serving on the College's new Mi'kmaw-Indigenous Advisory Circle, Mawagnutma'tnej. We are honoured to welcome her back to the quad.
Madam Chancellor, for exceptional public service in the betterment of her communities, her leadership in creating mutual understanding across cultural and national boundaries, and her inspirational embodiment of the power of a King's education, I ask you, in the name of King's College, to confer upon Kathryn R. Burton the degree of Doctor of Civil Laws (honoris causa).
*updated for accuracy June 14, 2023.
Kim Kierans
Domina Cancellaria; praesento vobis Kyneburgam Kierans, ut admittatur ad gradum Doctoris in Jure Civili (honoris causa).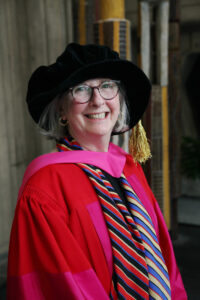 During the first two centuries of King's history, students often read the Latin poet Horace, ensconced in the curriculum as an elegant sage of common sense and tempered passions. One of Horace's most emblematic odes ends with the following lines, quoted from a serviceable but free translation by a 20th century alumnus:
When tough weather stresses the sturdy breast,
Breathe deep, then show up hearty and heady;
When that same chest swells with breezy success
Reef your puffed sheets. Be cautious and ready.  (Horace, Odes 2.10.21-24)
The admonition caps a series of recommendations for the lover of the "aurea mediocritas," the "golden mean;" that well-desired but elusive middle place of thoughtful calm between too little and too much in every imaginable situation. We are uncertain if Kim Kierans read Horace as an undergraduate of Classics and Political Science at King's in the early '80s. But her subsequent career in journalism, academic teaching, and administration is a living monument to the spirit of his ageless advice, as well as a demonstration that the middle ground can provide both an elevated vantage point and a platform for the practice of transcendent virtue. Surely, Kim's time as a CBC Maritimes regional reporter between 1976 and 1998 inculcated the skills of mediation that have served her, and others, in her personal and professional interactions. Work in the media requires cautious and circumspect reporters to negotiate the space between their sources and their public. These heralds of truth must have the empathy to divine the desires of the latter to know, as well as empathy for the reluctance the former to disclose; in interpreting information in writing or broadcast they act as secular mediums of the occult or hidden.
In 1998, Kim began to translate her expertise to generations of students in the King's School of Journalism, remaining a professor there until her recent retirement. From 2003 to 2010 she served as director of the School, making further contributions to national and international journalism, particularly in the areas of education and ethics. Internationally, her efforts have been especially noteworthy in Malaysia and Cambodia and the Philippines, where she was adjunct faculty member at the Asian Center of Journalism at the Ateneo de Manila University. In Canada, she has taken a number of important advisory roles in governmental and non-governmental organizations, and she has been Director of the Michener Awards Foundation, as well as Chair of the judging committee for its prestigious Awards for Public Service Journalism. She is currently a Senior Fellow and Resident at Massey College at the University of Toronto, where she has been writing a book (her third) about public service journalism.
Perhaps no role tested Kim's cultivation of the golden mean as that of Vice-President of the College between 2010 and 2017, a time of significant challenge and transition for King's. As the lead in countless initiatives, the quiet supporter of even more, and at all times the patient, wise, and supremely competent mediatrix omnium partum—mediator of all parties, from students to faculty to administration to staff to alumni. Often golden, never mean, occasionally at the forefront, more usually unseen, Kim has set a standard for service and integrity that remains as strong as our collective gratitude for it.
Madame Chancellor, for her dedication to the highest principles of journalism, her commitment to its power for positive social change, and for her outstanding service to our University, I ask you, in the name of King's College, to bestow upon Inglis Professor Kim Kierans the degree of Doctor of Civil Laws (honoris causa).